Bed and Breakfast in Sardinia Ogliastra Rita and Family
by Rita And Family
(Sardinia Ogliastra Loceri)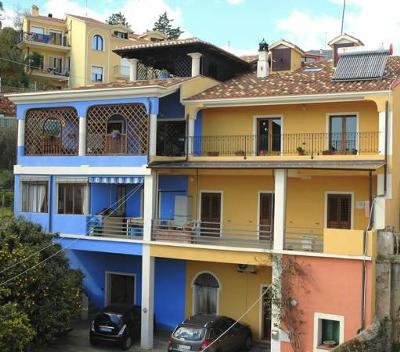 The House
Bed and Breakfast in Sardinia Ogliastra Loceri. Sardinia holidays in a warm welcoming in family atmosphere in an authentic Sardinia setting.


Inviting someone to our table to us means to take care of their happiness during their time passed under our roof.
Hospitality is a distinctive character of each Bed and Breakfast, at the core of ours is the relationship with its guests to offer them the utter most comfort and attention in a peaceful and family atmosphere.
The B & B Rita and Family is located in the heart Ogliastra in a small village called Loceri a few kilometers from the beautiful east coast of Sardinia, where you'll find a collection of the most beautiful and splendid beaches of this Mediterranean Island, like the inviting Cea Beach with its shallow clear blue sea and the highest mountains of Gennargentu.
A perfect destination for those who want to spend their precious Sardinia holidays by the sea or in the mountains.
The video below takes you on a tour of the surroundings near our bed and breakfast.
Our Sardinia B & B offers its guests three possible alternatives:
•
Suite 14 m2 – Sleeps 2
The suite resides on the second floor with an amazing sea view, 2 single four poster beds in a private bathroom.
•
An Apartment 30m2 – Sleeps 2
This apartment reside on the ground floor, it is a mini open plan apartment for rent by owner that has all the comforts of self-catering, 1 master bed, a kitchenette , a private bathroom.
•
An apartment 40m2 - sleeps 4
This apartment resides on the ground floor, complete with all the comforts for self-catering, 1 master bed, 2 single beds that are situated on
the raised wooden floor, a private bathroom and a kitchen/dining area
Breakfast is served in a buffet style on the on the sheltered veranda for guests staying the suite.
For those who choose to stay in our Sardinia apartments breakfast is provided for on a self –service basis.
This basically means that we ask our guests what they would like for breakfast and they are delivered, so that you can serve up breakfast at your convenience.
Breakfast products vary between croissants, traditional bread, jams, fruit juices, coffee, tea, homemade cakes and home grown fresh fruits that are in season.
The video below takes you on a tour of our Sardinia accommodations.
Our facilities are designed and built in country style, perfectly balanced with a blend of past and present to offer our guests a healthy and natural ambiance of the past but with all the comforts of modern technologies.
The nearest airport is Cagliari Elmas and you can find more information about
flights to Sardinia here
and other airports that may be more convenient to you.
The map below indicates the route from the Cagliari Airport to our bed and breakfast in Loceri.
Our philosophy at the Rita and family Bed and Breakfast in Sardinia is that guests are like precious jewels that lie on a pillow of hospitality and will be our pleasure to take good care of it.
Rita And Family Bed and Breakfast Sardinia Ogliastra
Via F. Podda n.16 - 08040 Loceri
Tel – International (+0039) 0782 77164
Cell - 347 3730185
Email Rita through Experience Sardina Contact Form
Website
Please do not hesitate in contacting us with any questions and to see if we are available.
Best Regards
Rita and Family