Italian Cookies
Baking in Sardinia
Italian cookies are my favorite subject and if you adore baking I have lots of treats for you to try in the good old fashioned Italian way including specialties from Sardinia.
Hope you enjoy baking my collection of Italian recipes and filling your home with the authentic perfumes of traditional Sardinian delicacies.
I have divided all the cookie pages in to categories, and by clicking on the icons below you and can jump straight to the part of the page your interested in most.
From here on it's
Put your aprons...
Pull your sleeves up ....
Enjoy the baking ....
But most of all.... Enjoy savoring the authentic Italian treats you will be creating!
I have divided up all the cookies and recipes in into ten sub categories, if you know what you are looking use the links above the thumbnail images for quick access to each section.
Please note that by clicking on all thumbnails images throughout the page they do enlarge.
Each area of Sardinia has its own traditions and cultures when it comes to baking.
You will find variations of names and slight variations with ingredients even between towns that are only a few kilometers away from each other.
One thing remains where ever you go, Sardinian's are proud of their traditional cookies and if they are given a chance you will certainly be offered a taste.
Here I will be sharing many of our authentic Italian cookies for you to try the genuine flavors of the Sardinia's past.
Italians and Sardinian's certainly have quite a sweet tooth and even the simplest of Italian cookie recipes are always spruced up with natural aroma's that give simple cookies a unique flavor, after all if they're going to eat something it might be simple but it does have to be tasty.
Sardinia is renowned for its almond cookie recipes with a huge variety that covers of the whole of this Mediterranean Island.  
There are of course exceptions in areas of Sardinia where may be hazelnuts and walnuts are used instead, main reason probably because they are more in abundance in those areas.
Oranges and lemons are also used commonly to flavor cookies and in some cases they are the main ingredient.
Amaretti Cookies  - One of the most famous almond Italian cookies in Sardinia, the use of bitter almonds it was gives them their unique flavor. You'll find that most Pasticceria's or cakes shops in Sardinia make them as they are very popular traditional cookie.
Amaretti Cookie Recipe - Here the recipe goes into more depth for great results.  It also shows you how to blanch almonds so that even you can't come here to enjoy the authentic taste of these cookies, you could always give it a go at making them yourself.
Almond Brittle Recipe - Slivered toasted almonds coated in caramelized sugar and Sardinia's have a unique way of serving them that makes them even more tastier.
Nut Brittle Recipe - Just needs a little getting to use to make, different types of nuts need different amounts of sugar and I can help you here.
Almond paste recipes in Sardinia have many different names, shapes and flavors. One of the most of the most famous are I Sospiri Di Ozieri.
Almond Balls - Simple almond paste balls with a variety of flavors from coffee to strawberry and many more
Almond Paste - A Sardinia recipe for almond paste using a sugar syrup
Almond Cookies - Almond paste and chocolate together with these Caeffus cookies.
A collection of Italian cake recipes , pastries and cream fillings.
Italian Pastries – Puff pastry, sponge, liqueur and an easy Italian pastry cream recipe, including a gluten free recipe.
A basic Italian pastry cream recipe, including chocolate cream, chantilly cream recipe and a gluten free pastry cream with almond praline
Learn about different types of Meringue Cookie Recipes each one with its own unique method.
I don' think there could be anything nicer than filling your home with the fragrance of homemade cookies.
A selection of easy cookie recipes from the simple ingredients, method and serving. My kind of cookies, nothing fancy but "O" so scrumptious!
Simple Cookies - Traditional Sardinian recipe made up by hand using lard.
Many people interpret Italian biscotti recipes as those types of biscuits that are baked twice, just like these Anise biscotti cookies, which are a dry cookie perfect for dipping in wine.
Having said that the classic Sardinia Biscotti is a soft sponge finger also known as Coffee biscuits as Sardinian love to dunk them in their espresso coffee.
Here is a collection of all types of biscotti, biscuits and cookies all Italian naturally!
Anise cookies are a classic Italian biscotti flavoured with aniseed
Cookies and Christmas well...  just go hand in hand!
A jolly time of the year where creating your own Christmas cookie decorations is as much fun as making the cookies themselves.
Italian Christmas cookies as a rule are quite simple.
But I just can't help it, when it comes to Christmas I just have to jazz these authentic Italian cookies up for the festa!!
A selection of my favorite cookie dough recipes. Each one with the possibility of creating many more than just one type of cookie.
Some of course are ideal for certain types of cookies or tarts other's are as you will find out.
Traditional Sardinia Cookies
Pistoccus de Crobi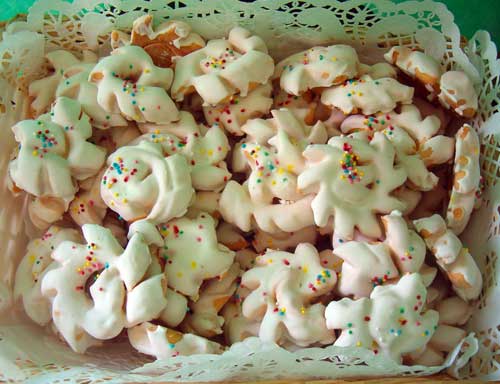 ---