Vacation Homes Rentals
Rent By Owner
Vacation homes rentals in the wildest part of the Island, Ogliastra.
I say wildest simply because it is here where you will find the rural and natural beauty of the really life of the Sardinian's.

Ogliastra is certainly less well known and probably the least visited Province of all, but this certainly doesn't mean that this unknown and naturally beautiful territory doesn't have anything to offer, quite the contrary.
If you already know this area ,be my guest and enjoy browsing through the holiday homes that have been listed.
The types of rentals available vary from town houses to apartments and villas.
If on the hand this is your first time looking for holidays to rent by owner,  I will do my best to give you as much information about the areas where these vacation rentals home are located.
One of the first things I must say is how I believe that rentals are the best way for vacating.
The accommodations can go from very simple to a little more luxury but no matter the star of the accommodation...
What they all have in common are the genuine hosts that treat you like guests, to find out more what I mean see country homes for rent.
Please do take a look at these to accommodations I can highly recommend them both.
The accommodations offered are completely different  with of course different prices but the hosts are truly both lovely people.
Vacation Homes Rentals In Ogliastra:
Her you will find more holiday homes in vrious area of the Province.
Villa Aresu is just one of the few villas and apartments that are available in the commune of Barisardo.
Villa Aresu is situated near the truly splendid beach of Cea. This year I took my friends who were on visit here and they fell in love with it. The soft sandy white beaches and the shallow warm waters are not just a paradise for kids.
Holiday homes in the commune of Baunei are located in two different areas.
You will find vacation rental homes in the actually town of Baunei but most of them are in the Marina village of Santa Maria Navarese which is located a few kilometers from the actual town..
A collection of superb beaches to choose from, how can I put it... very touristy and delight place.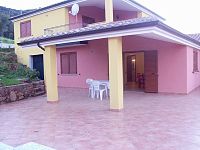 Vacation homes by owner in the Commune of Cardedu is where you'll find a larger number of holiday homes available.
Mainly due to the fact that these homes in many cases are owned by people from all areas of Ogliastra.
There are even people from my home town Jerzu that houses for rent in the Cardedu countryside and near to the beautiful east coast beaches.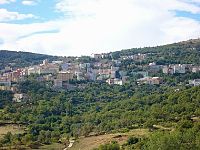 Homes for rent by owner in the Commune of Lanusei. This town is situated about 600 above sea level.
This is why you always tend to find a cooler climate here a perfect place for those of you that love the nature as it is not far from the Selenè Forest where you can find numerous archeology sites.
It is also ideal for hiking and walking excursions.
There is also the train station where you can spend a day travelling through the heart of Sardinia known as The Little Green Train or as they as in Italian Il Trennino Verde.
Vacation homes rentals in the Commune of Lotzorai. This town is situated about 1.5 kilometers from the beautiful Lido delle Rose Beach.
The town it's self is well equipped with the necessary shops, restaurants' and pizzeria's.
It is a small town and very tranquil yet it is close to larger centers like Tortolì.
Vacation homes rentals in the Commune of Tertenia. The town of Tertenia is about 13 kilometers from the nearest beaches.
In fact the homes for rent by owner here are situated in the Marina of Tertenia also known as Sarrala.
The Sarrala plains are a perfect setting for a relaxing holidays.
In the high peak season on Saturday mornings they have a market near the Foxi Manna beach. Plenty of restaurants and bars.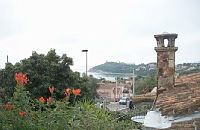 Tortolì is the largest town in Ogliastra. You'll find townhouses and apartments for rent in the town itself and on the out skirts including rentals in the Marina village of Arbatax.
Tortolì has a large shopping center, lots of restaurants, bars and pizzeria's and as for beaches your just spoilt for choice.
More useful pages about related to vacations in Ogliastra:
Home

› Vacation Homes Rentals