Getting In Contact With Me
>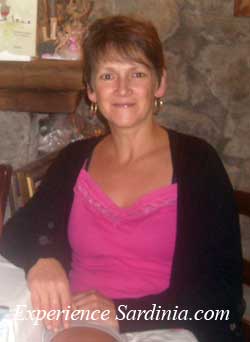 Author: Susanna Lobina
Address : Jerzu Ogliastra Sardinia Italy
Tel: +39 0782 70368
Please note that there are two ways in which you can contact me, depending on the nature of your request;
If you have a general question about your possible future holidays in Sardinia, then please contact me by using the Submission Form Below,
so that other Experience Sardinia.com visitors may benefit from your questions and from my answers.
If you wish to contact me with a private query please use the email form below. Rest assured that your email address is safe with me, as I will use it only to contact you at your request. I will certainly not pass it on to anyone!
Please understand that I will not be able to answer general travel related queries about Sardinia holidays submitted through the private email form.
---
Filling in the submission form below is as easy as 1 2 3…
1.) Fill in the title that describes best your story/question
2.) Write your story, never think that minor details are not important, more often than not they are the best points to share.
3.) Adding your photo's- Do take advantage of the fact you can upload 4 photo's of your magic moments on this beautiful island and of yourself. It is always nice to be able to put a face to a name. Don't be shy… after starting this website my shyness has gone straight out of the window! If you haven't got a photo then I may pop one in that fits the bill.
4.) Submit your contribution and Experience Sardinia.Com will publish a whole page dedicated to you, your photo's and your story, where other's and myself may comment on what you have kindly shared.
5.) Once you have submitted you contribution, the next page shows you a preview of what your page will look like. If you wish to make changes, this is the time to do it. Don't worry too much about spelling if I find any typos I will sort them out.
On this page you are also asked to set your notification details . This of course optional but it is highly recommended you do so.
Why should you give your email address to me… Although your story usually appears on the page where you have submitted the form, It has been known for me to move your submissions to other pages where they may fit better.
This of course will make it harder for you to find your web page again. If you set notifications to get the Url of your submission emailed to you, you always have the link to your page and you can follow comments by other readers.
Advantage of having the url to your web page? You know exactly where to send your family and friends to show off your very own web page on Experience Sardinia.Com.
Spam is a damn right nuance!, so I perfectly understand when people are weary about giving their emails ways. Rest assured that I will only email you to let you know when and where your contribution has been published.
Your email will never published on this website or given to other's!
Submission Form
Ask A Question... Share your Thoughts
---

Please fill in the form below. I will get back to you within 48 hours. :-)
Email Form
More about me and my website