Sardinia Advertising With
Experience Sardinia.Com
We Share the Same Goals...
Experience Sardinia's  different and unique approach
to information about Sardinia can help you..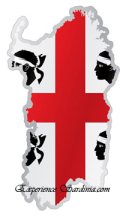 Sardinia advertising options are unique, well-priced and in many cases they can be custom designed.
Experience Sardinia offers the opportunity to be part of a high quality informative website that is ever growing.
More notably they reach your possible future paying guests at that crucial holiday planning stage.
Experience Sardinia offers advertisers a great opportunity to increase the visibility of your business in the  tourism industry.
Reaching out to your visitors at that  crucial time.
Off line advertising is still widely used, newspapers, magazines, poster's etc. But how many people step off a plane without having planned at least the bare essentials, like accommodation and transport? Not many...
Using accommodation as an example; When some steps off a plane and sees your beautiful exclusive hotel pasted to the wall in the airport or on the billboards that line up the roads, they have already booked, they're  not interested,  maybe next year you'll have a chance, that's if they remember.
They  have either planned their own holiday by booking on the internet or through a travel agency. In either cases they turn to the internet to find out more information (which are the best wines, best places to eat fish, what events are being organized and so no..)
The main disadvantage of offline advertising is the ability of  reaching a targeted audience. A great example would be waiting at the doctors reception. They pick up a magazine  and see ads for holiday accommodations, but what are the chances that they are thinking about going on holiday at that precise moment in time... remote!
People searching for information about Sardinia are high –quality targeted visitors. Reaching out to possible future visitors to Sardinia at that  crucial time of  holiday planning is the place to be. Advertising on a website that attracts those kind of visitors and shares the passion to deliver the results by giving you and your business quality exposure.
Why Advertise With Experience Sardinia.Com
Experience Sardinia.Com is a new website that came to life out of the passion to communicate to the rest of the world exactly what this unknown Mediterranean island is all about.
My main occupation is baking and the tourism industry is part of my business. As you are well aware tourism in Sardinia has been slowly decreasing over the past three years, 2011 a year not to remember. I do not understand why;  with all the natural beauty that this Mediterranean island has to offer and yet we are not reaching travelers.
Sardinia has nothing to envy the many other holiday destinations around the world, totally the contrary in my opinion.
Experience Sardinia's goal is set to be the best website about Sardinia not only attracting possible visitors to our Island but also out to reach those that didn't know that Sardinia exist.
After  6 months of constant work on this informative website, the majority of pages that have been published are showing up on the first pages of Google.
Experience Sardinia.com  traffic ranking has been slowly rising and you can check it and see for yourself how this website compares to others that have been around a lot longer than I have. It still has a long way to go but the important thing is knowing your goals.
As Experience Sardinia.Com grows, you have the opportunity to grow with it. Advertising also means sponsoring this website to reach out shared number goal... the growth of Sardinia tourism.
Advertising opportunities are only open and offered to high quality businesses and services within the Sardinian tourism industry.  This website is about Sardinia and what our Terra Sarda has to offer and will always remain so.
Sardinia Advertising Opportunities and Prices
Experience Sardinia.Com is growing and will continue to grow, with that in mind the prices of the ads have been adequately set.
You can contact me through the form on my contacts page or here.
If your English is not up to scratch and would prefer to write in Italian please feel free to do so.
Will we take it from there...
---