Self-Catering Apartments in Countryside Sardinia Residence
Home Away Vacation Rental in True Sardinia Style with Authentic Sardinian Hosts
Villa Melissa Ideal Sardinia Residence Holiday Accommodation For:
A home away from home experience with an authentic touch and feel of how the locals live.
Privacy and freedom of doing what you like when you like
Ample space for enjoying the liberty of eating out in the open
Reassurance of ease of watching over your children
Flexibility and comforts of home luxuries while being on holiday
Making the most of the staying healthy, keeping boredom at bay, the children entertained, socialising and even topping up the tan with the private pool and tennis court
Perfect for relaxation and tranquillity and recharging your batteries
Exploring and relishing the nearby stunning beaches, peaceful countryside and stillness of the mountains
Experience the warmth and generosity of genuine Sardinian hosts
Take the Tour
Villa Melissa - You couldn't wish for a more beautiful Sardinia holiday accommodation than these small apartments set in a attractive countryside ambiance in the heart of the Province ofIf these are your idea of a perfect holiday accommodation then share your vote!!!! Ogliastra, for warm authentic feel of this Island..
Sardinia Holiday Accommodation
Home Away Vacation Rental Cardedu Ogliastra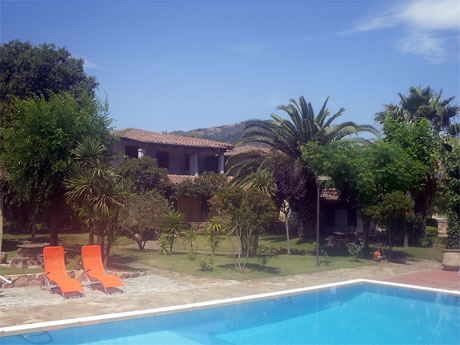 I can still remember when the foundations of this splendid Sardinia villa where first laid.
I could see back then that this Sardinia holiday accommodation rental was destined to be a perfect setting for a home away vacation rental and over the years it has surpassed those visions blooming into a vibrant oasis.
Residence Sardinia Holiday Rental Grounds
Where is Sardinia Residence Accommodation?
The residence resides in the countryside of Cardedu Ogliastra on the east coast of Sardinia. Flights to Sardinia will help you decide the best route for you.
Meet The Residence Owner
Anna Paola - To The Right
Although this Sardinia vacation residence is off a secondary road, the whole area is beautifully encircled with flowering trees that ensures total privacy for your Sardinia vacation.
If the sea and sand is what attracts you to Sardinia, some of the most spectacular Sardinia beaches are the added luxury you get all within 5 minutes of Villa Melissa.
I went along to visit Anna Paola  on the day she was preparing for the arrival of her guests and she gave me a grand tour of her villa.
The only way I could tell you about the welcoming hospitality was to see it for myself, so I had a real good nose round leaving nothing out.
Entering The Sardinia Holiday Accommodation Rental...
The large decorative iron gates supported by tall columns raised with Sardinian granite make the grand entrance to an ornate driveway that leads to the shaded parking area.
Entrance To Sardinia Holiday Accommodation Residence
As soon as you enter the glimpse of the splendid ambiance is fairytale like, you know what I mean... the type of perfect picturesque settings only seen in books.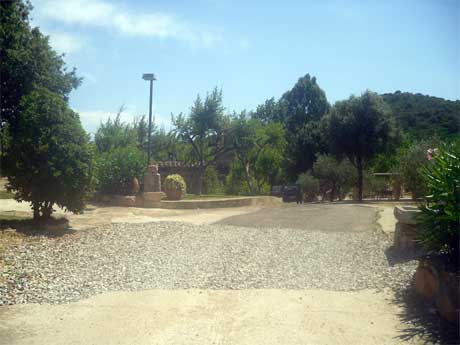 In fact Villa Melissa Residence... does live up to those visions!
Home Away Vacation
Sardinia Residence
Touring the Sardinia Residence Accommodations
Residence Melissa has been excellently architectured that at a first glance it's hard to distinguish that in reality there are four private home away vacation rental villas in one. There are two east facing apartments and two west facing.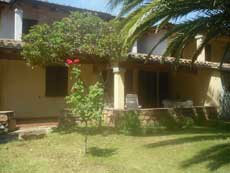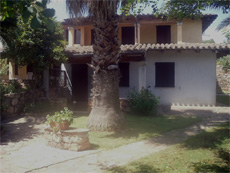 Walking up the stoned path way towards the private apartment you can see that nothing has been placed just by chance but has been selected with care and immaculately looked after.
The owner actually showed me round all of the apartments, but the one she was preparing was the east facing one, that has an awesome view from the master bedroom.  I actually took this photo, I know I'm light years away from being David Bailey... but I love this one!
View From The Master Bedroom
Residence
The large veranda that runs along the whole length of the apartment leads to the actual entrance of the holiday accommodations was already prepared with chairs and a table dressed with fresh flowers and a bowl of sweets.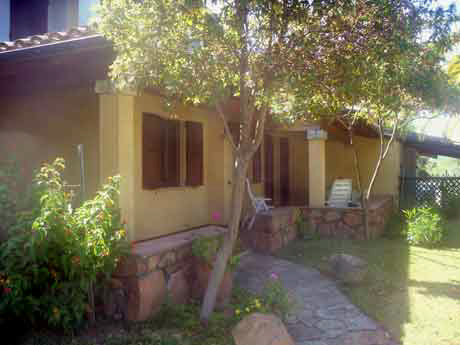 The residence apartments are made up of 70 sm2. The first thing that I noticed was the table laid with a large bowl of fresh fruits; some of which had been picked from her own garden, not the banana's though! There was another bowl laden with fresh bread cheese and salame.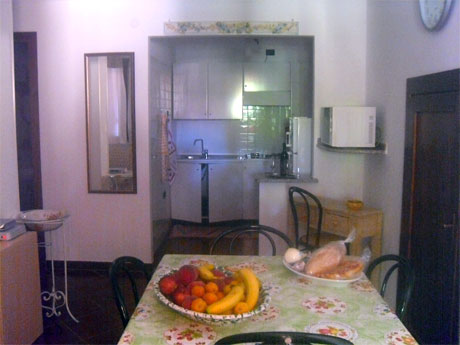 The living area is a open plan design; comfy divan sofa (also sleeps two) for a relaxing nap after the hard work of relaxing in the sun,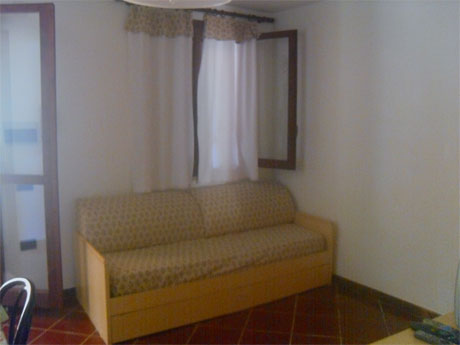 with a TV just in case you get withdrawal symptoms, which I doubt very much. Oh and by the way if internet access is required it is available on request with a minimum extra.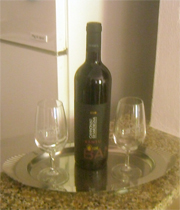 The small kitchen area has a small separating wall. And low and behold what did I see, a tray with two fluted glasses and a bottle of my dad's favorite Cannonau di Sardegna wine...
For that alone my dad would give this Sardinia residence the thumbs up!
The kitchen is set up with the all the necessities fridge, freezer, microwave, coffee maker and a cooking stove.
I had a peep inside the fridge...  an array of drinks were already cooling off!
If that wasn't enough, Anna Paola was preparing a tray on the working top with all sorts of goodies including amaretti cookies, let's put it like this she had thought of everything.
The night area is made up of a master bedroom. As you can see it is delightfully furnished with a touch of Sardinia.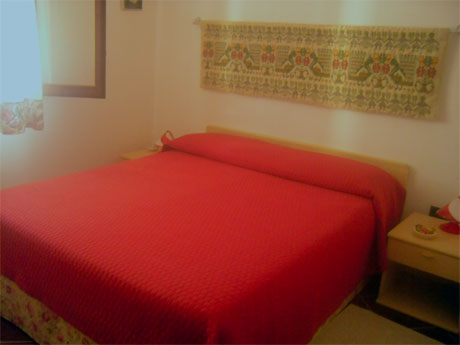 The other bedroom hosts two single beds and if a cot is required it can be arranged. With the divan bed the apartments sleeps upto six people.
There is of course a bathroom complete with shower, wash basin, toilet and bidet.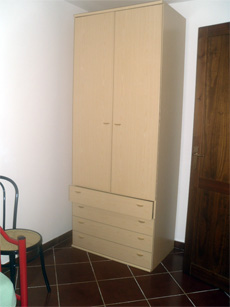 Sardinia Residence Grounds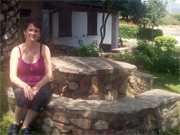 Each residence apartment has its own front garden, where you have to cut the grass before leaving ...just kidding!
Where you'll find shaded table and seats constructed in stone and granite that blend in perfect harmony of the whole setting.
The mini Sardinia villa utility room comes in real convenient; 2 wash basins, washing machine, iron and board and also a dryer.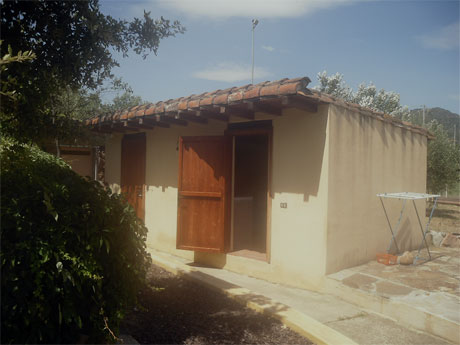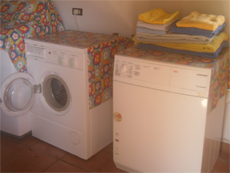 The centerpiece outdoors is the swimming pool, I could certainly see myself on a lilo lapping up the sun and cooling off at the same time....what do you say?
Swimming Pool At The
Rental Accommodation Residence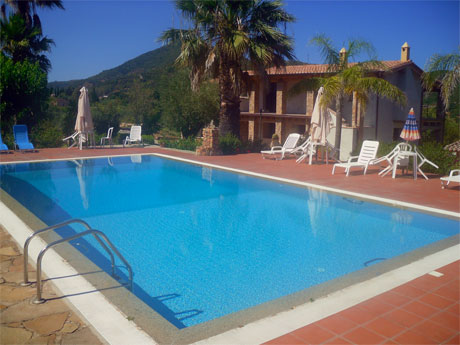 Around the pool there are plenty of deckchairs and umbrellas in case the sun gets a bit too much.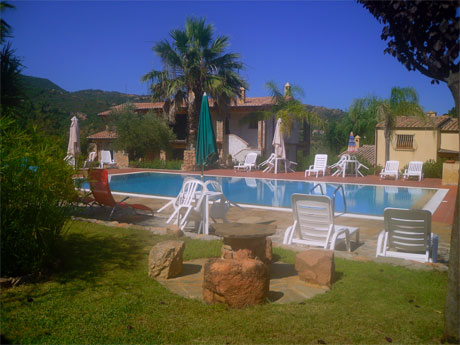 The outdoor shower is really handy after a swim in the pool and especially if you've been to the beach and come back with sand stuck to your feet.
The gardens are so attractive and thoughtfully arranged; from the odd natural stone placed here and there,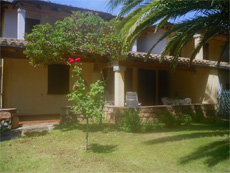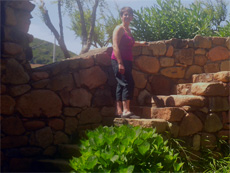 to the arch ways and verandas blooming with flamboyant flowers,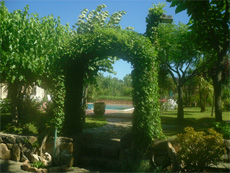 from the arranged ornamental vases to the windy steps that take you in all directions,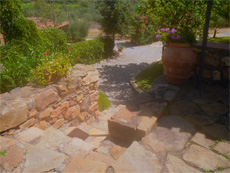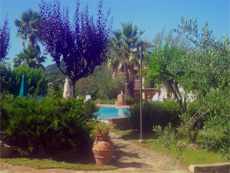 although I've got to say trying to keep grass looking so green is not easy in Sardinia.
The next place is every Sardinian's pride and joy;  and that is the barbeque area...
Covered BBQ Area At The
Vacation Accommodation Residence
and what a barbeque!
Anna Paola usually organizes a traditional Sardinian spuntino. Put the word spuntino in to Google translator and you'll get snack... but I can assure you,  that it is not a snack what
is laid out!
Childrens Play Ground At The Holiday Residence
Childred absolutely love this place as they have all the freedom of roaming and playing in the grounds (great place for hide and seek!) and they get a whole play ground to themselves.
Which reminds me... if your feeling engergetic, there are mountains bikes available. Also, if you're feeling even more energetic and your biceps need sorting out there is a bench press!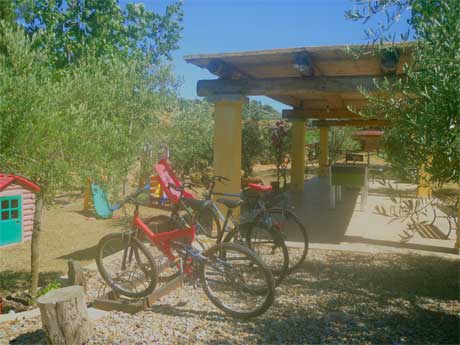 Any one for tennis?.. Yes there is a tennis court, just in case you feel like sweating out a few sets!
Keeping Fit At The Holiday Residence
One of the things the struck me about the owner while she was showing me around was;
Not only the pride of her Sardinia Residence that glowed but also her genuine concern that her guest receive a warm welcoming ensuring you a  marvelous experience of a home away vacation rental.
If you would like to contact Anna Paola about a possible stay in her Sardinia Residence, please use the contact form.
I have a few more photos on an album on Facebook , if you would like to see them (you don't have to be signed in to Facebook to view the album)