You Are Here
›
Home

›
About Me
About Me
Thank you for stopping by to find out
more about who I am.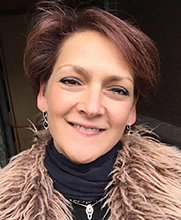 In all honestly I feel a bit stuck here...
It's like one of those homework you used to get at school when they asked you describe yourself..
Certainly not one of my favorites.
You end up sitting there thinking what do I write?

And you start off with the most pathetic things like…
I have brown eyes, brown hair (except it's starting to go grey now!
) etc…
So who am I and why am I here…
An everyday housewife married to a Sardinian with two lovely children (at times!), living on the Island of Sardinia through my own choice.
Nearly 23 years have gone by since I moved here and would never dream of going back to live in England as I love this place.

One of my greatest passion is baking which lead to me opening up my own bakery business in 1992, and I am still here plodding along even though the hard recession is effecting us all here on the island.
I have always called myself a "Jack of all trades and a master of none" because I take my hand to almost anything.
I must have been a creator of some sort in a past life (not the creator) as I don't like being told that I can't do something, and will give it my everything even if it's just to prove the point that I can.

A down to earth, easy going, don't get offended easily person that adores humorous sarcasm and a good laugh, the marvelous remedy for releasing the old stress that hits us now and again.
I love to be able to help people where ever and whenever it is possible, it just gives me a great kick knowing that I have done something good for someone else.
What more can I say, enjoy Sardinia through my website!
More about me and my website….