A Selection Of Ogliastra Hotels
Touring Accommodations
In Ogliastra
Welcome to Ogliastra hotels guide tour and to the Province of Ogliastra.
The Province is made up of 23 communes, some of which are very small and do not actually have a hotel.
You will find the majority of hotels near the beautiful east coast beaches that face the shores of the Province of Ogliastra.
There are also villages in the mountains where you have the possibility of finding hotel accommodations and in many cases the distance to the Sardinia beaches are minimal, basically enjoying the best of both worlds, the sea air in the day and the cool mountains at night.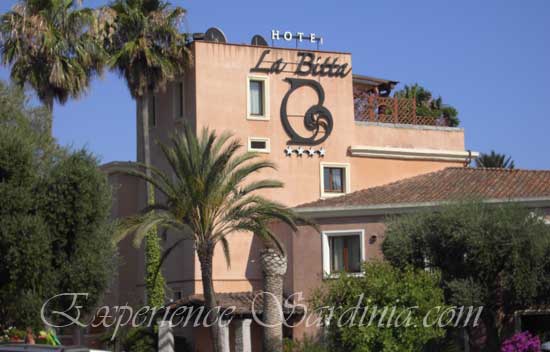 The Ogliastra Hotels tour begins with one of my favorite areas, the Marina di Cardedu.
There are two Cardedu resorts in Sardinia practically next door to each other yet both unique in style.
Well hidden in a rural area with a sandy beach that for the best part of the time you'll have all to yourself.
Near to the Marina of Cardedu you'll also find other hotels and accommodations.
Moving slightly up the coast line is the Marina of Barisardo.
You'll find the majority of Barisardo hotels in the Marina area known as La Torre, but you will also find hotels in Barisardo itself which is about 4 Km away from the Sardinia beaches.

The Tortoli hotels are next in line. Tortolì is lively and busy especially in Summer as it is a favorite destination not only for tourists but locals from other towns in Ogliastra.
Arbatax is a fraction of Tortolì a scenic tourist village also with local inhabitants... lucky them!
There are quite a few charming Arbatax hotels to choose from with different styles and services.
More refined hotels in Arbatax that offer four Star quality services and settings for those in search that little extra for their Sardinia Italy travel vacations.
Arbatax also offers a wonderful collection of Resorts.
Five uniquely styled resorts that blend in perfect harmony with each other on 60 hectares of natural beauty.
Hotels in Santa Maria Navarrese is another area of Ogliastra that is popular with tourists and locals.
With a small tourist harbor where you'll be able to join in on some marvelous vacation tours along the east coast beaches of Ogliastra. 
We have practically covered the whole coastline of Ogliastra bar just a few more areas.
Not everyone's idea of travel to Sardinia means just the sea and the beach.
Villagrande and Lanusei are two locations that are high in the mountains, one is a Sardinia resort and the other is a well established hotel offering a world of activities, see hotels Ogliastra to find out more.
These hotels in Ogliastra are situated in mountain village of Ulassai and in the locality of Saint Anthony in Jerzu ideal locations for trekking, hiking, free climbing visiting archeology sites basically exploring all the natural wonders of Ogliastra. -
The last but certainly not by least is the lovely hotel in the marina of Sarrala Tertenia
---
Accommodation In Ogliastra is where you'll more ideas of places to stay in Sardinia Ogliastra.
You may also like to try the Sardinia Holiday Accommodation Search Box that will give you ideas for other areas on the Island.
---