Barisardo Hotels
Barisardo hotels are divided up into two separate areas, the actual town and the seaside resort known as La Torre di Barisardo which is located about 4 Km away from the town.
There are a number of hotels in this area of Ogliastra and the great advantage is they are all so close to spectacular east coast beaches.
Nothing could be easier than just strolling yourself off to and fro from the beach.
In the summer events are organized and it sometimes can get a bit busier especially at weekends as it is also a favorite place with the locals as it has a choice of pizzeria's, Sardinian's favorite place for an evening get together.
If you're travelling with your own car, you'll have all the freedom to fully adventure yourself around this enchanting area.
I have found that many Barisardo hotels do organized transfers from the main ports and airports (see here for flights to the Island) It is always worth asking before you book. Otherwise Car hire is another alternative.
---
RESORT BAJA CEA ***
Loc. Scala e s'Olia, - Barisardo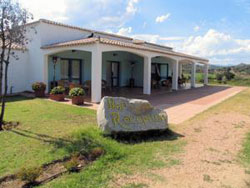 This Sardinia Resort is a collection of small apartments each one hosting four separate rooms with all the comforts.
A delightful swimming pool in the center sets a relaxing scenery all within 600 meters from one of my favorite beaches in the area of Ogliastra ... the Cea Beach!
Lots of activities available like wind surfing course, waterskiing, rentals of dinghy's for the most adventurous and paddle boats.
More Information and Checking Availability
---
HOTEL RESIDENZIALE DOMUS DE JANAS SUL MARE ***
Viale della Torre, 24 , - Barisardo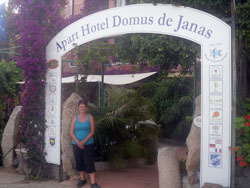 The Hotel Domus Janas is located near the Torre di Barisardo which is  a small fraction of the Town (about 4 Km away).
I adore Bougainville's and this hotel is ornate with these plants that give a vibrant colorful welcome.
The rooms and apartments have balconies equipped with table and chairs.
Services provided include ; beach umbrellas, internet point, a small spa with a Turkish bath and sauna, the hotel also a swimming pool although the beautiful beaches are literally only minutes way and for the romantics a cozy whirlpool just for two on the roof top.
Rentals available for bikes, canoes and kayaks and on request, fresh bread delivered daily.
More Information and Checking Availability
---
HOTEL RESIDENZIALE STELLA DELL'EST *** 
Via Maria Carta, 24 - Barisardo (OG),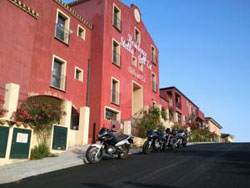 The Hotel Stella Dell'Est is located just on the outskirts of the village of Barisardo, about 4 Km away from the nearest beaches.
Open all year, the hotel offers a choice of self-catering housing units equipped with air-con, sat TV, telephone and a few of the units are suited for the disabled.
More Information and Checking Availability
Hotels Stella dell' Est Reviews  
---
Other pages related to Barisardo Hotels that may interest you:
Use the Holiday accommodation search box:
Wherever your final destination is, have a great jolly vacation,
---