Sardinia Hotel Janas
Holiday Accommodation In Ogliastra
Enchanting Sardinia hotels in Ogliastra are not hard to find for those of us who live here and know the area.
Yet this newly born Italian Province of Ogliastra that boasts some of the most beautiful hotels in Sardinia has certainly not been discovered by many.
Marina Di Tertenia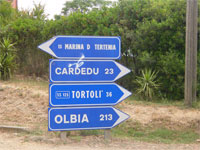 For the few that have experienced Sardinia travel in the naturally stunning area of this Mediterranean island has always left with warm memories and not only due to the Sardinia hotels, but all the rest that comes with them.
A prime example of a Sardinia hotel that has so much to offer is tucked away in the Marina di Tertenia also known as Sarrala by the locals and that is Hotel Janas.
If you ever come this way you'll understand  what I mean by tucked away as you enter the trail off the main road...the only sight is a tall barrier of mountains that it doesn't give way a clue about what lies beyond.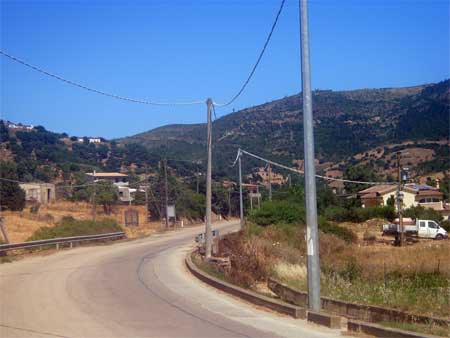 The trail will take you high in the mountains and at a certain point you'll begin to descend and that's when all will be revealed.
Marina di Tertenia...Ogliastra Sardinia Italy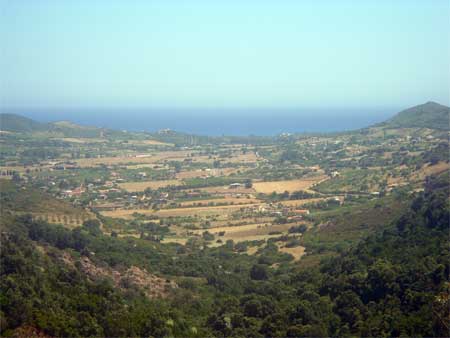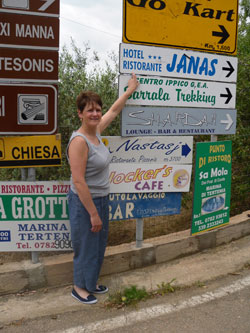 The view of  valley that faces the spectacular Sardinia east coast beaches of Ogliastra is truly breathtaking.
I find this place so enchanting almost like the gold pot at the end of the rainbow...
Back in the car...
A straight road down and when you reach thefork in the road bear right, you're only a few minutes' away and even when you arrive it's hard to see what's concealed beyond the colourful surroundings.
There you have it, Antonio's and Anna's secret Sardinia Hotel Janas.
Sardinia Hotel Janas in Oglisatra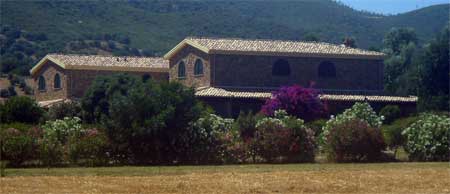 It truly is a pleasure to see and roam the grounds with all those beautiful flowers and plants... I just wished I had green finger's like Anna...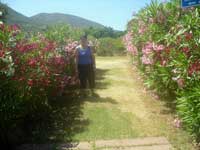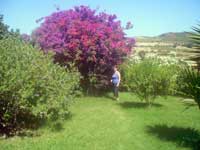 The actual structure of the Hotel Janas is so Sardinian, with the natural  stone and wooden arched windows are a fine example of Sardinian architectures.
Tertenia Ogliastra Hotel
Holiday Accommodation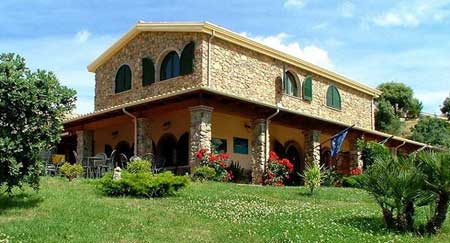 Even in the dining hall, the little fireplace sat in the corner recalls the typical traditions of a Sardinian home.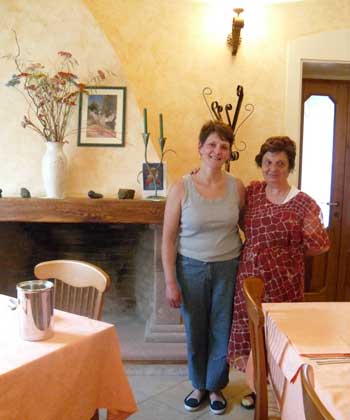 Certainly worthy of a mention is a Carob tree in the front gardens that is about 400 years old, as is  an Olive tree in bloom that has been dated to be 2000 years old... it is huge!
Olive Tree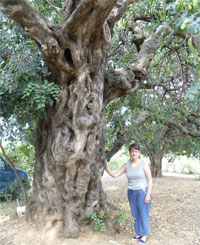 Carob Tree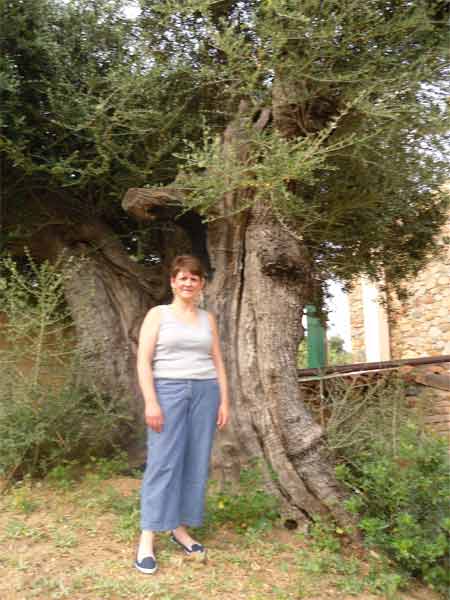 Me and Luigi often have a ride out to the Hotel Janas in Sarrala , maybe for a cool drink , or when we organise get a together for a delicious traditional Sardinia meal accompanied with our favourite Cannonau di Sardegna wine...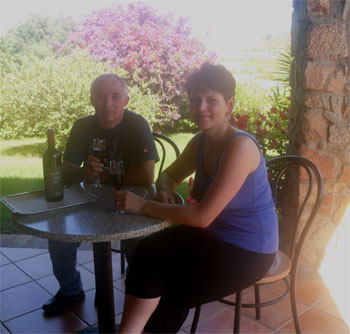 It's our way of escaping everyday life and pretending  to be tourists... which isn't really hard as you can see!
On those hot summer evenings, a glimpse of that  pool surrounded by a tall hedge is like a magnet...  believe me it is sheer bliss!
Hotel Accommodation In Ogliastra
Beautiful Holiday Location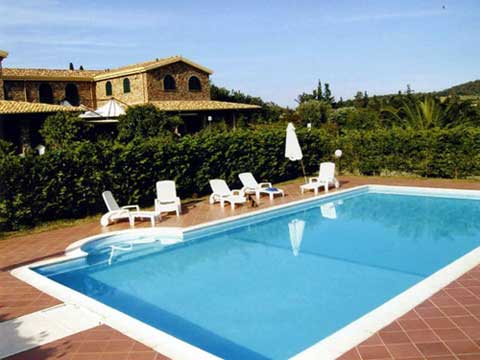 Swimming pools have their commodities but the splendid Sardinia beaches are a totally different kettle of fish!
The sandy beaches of the Marina di Tertenia are a perfect choice to relax and laze in the sun but you  can also find rocky shores for scuba diving and snorkelling.
The last time I went to Hotel Janas , I had a really good nose round, it was like being in a maze! The rooms are immaculate , inviting and cosy. I was dying to have a lay on the bed, but omitted the request, so you'll have to find that one out for yourself and let me know.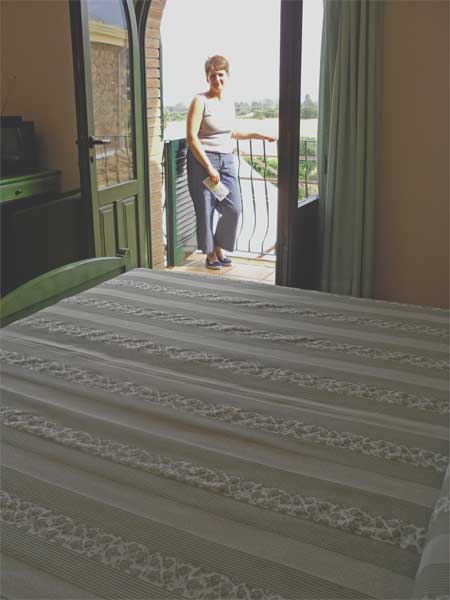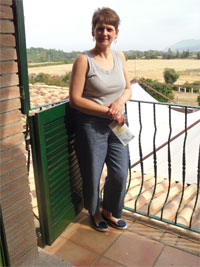 Now,  who on earth would want to watch TV or be glued to the internet on holiday I don't know, but for those of you that are in need of their daily dose, they are available.
One of Antonio's passions are horses that he keeps and takes care of in the stables within the grounds of his Sardinia Hotel .
Oraganised Excursions with Qualified Staff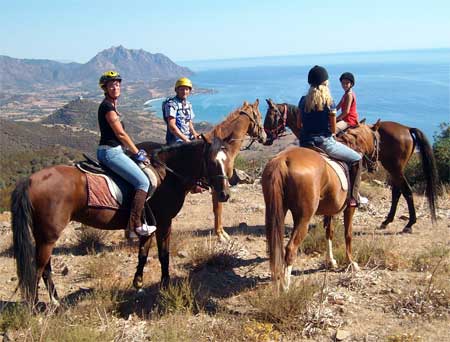 If exploring the natural splendour that Sarrala proposes on horse back intrigues you, Hotel Janas is fully equipped  with qualified staff to help you fulfil your aspirations.   
Antonio and Anna are a wonderful couple, their warm smiles reveal the sincerity with which they welcome their guests to their Sardinia Hotel Janas.
Me, Antonio and Anna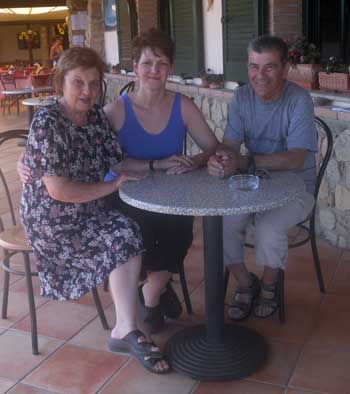 If  you would like to find out more information about a possible stay with Antonio and Anna in their splendid hotel, please use the contact form , they will be very pleased to response to all your questions and requirements.
For more information see Antonio and Anna's invitation page.
Please Bear in mind that the Hotel is open from the 1st of May through until 31st of August.