Hotel Janas
by Antonio and Anna
(Loc Sarrala - Tertenia Ogliastra)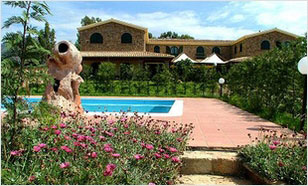 View of the Hotel From the Swimming Pool
A small 10 roomed Hotel in Sardinia Ogliastra Tertenia -
Marina di Tertenia.
An ideal setting for couples and families with young children.

An Introduction By The Owners :
Antonio and Anna, we are the proud owners of the Hotel Janas and have been for ten years. We opened up or hotel in 2002 and over the years we have seen many guests from all parts of the world.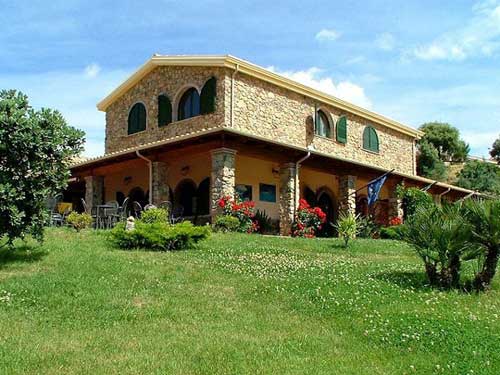 Although we do have an internet presence, the majority of our guests have been referred to us from other satisfied customers. This for us, of course the icing on the cake, as our sole goal is to ensure that your stay with us leaves you with warm memories of your vacations at the Hotel Janas.
Location:
Our hotel is situated in the Sarrala Plains. Sarrala is a fraction of the small town of Tertenia, which is situated about 13 kilometers away. The Sarrala Plains lie in the valley between the mountains of Punta Cartucceddu and Monte Ferru and faces a coastline of spectacular beaches.
The beaches are about 5 minute drive away from the hotel and you have a choice of Sandy beaches like the Foxi Manna beach, and pebbly beaches like the Barisone Beach. If you are coming with a car then there are plenty more beaches to explore nearby, all you have to do is ask and we can put in the right direction.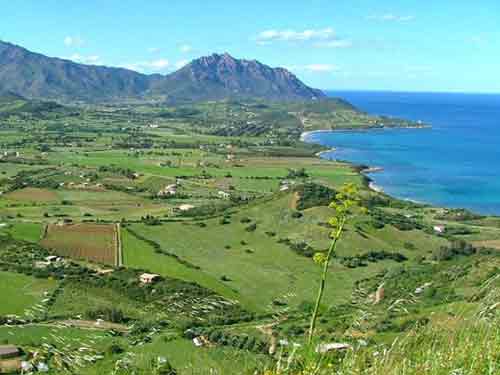 In the meantime
Mediteranean beaches of the Marina di Tertenia
takes you on a tour of this coastline.
Basic Information :
Accommodation Name : Hotel Janas ***
Accommodation Type : Hotel and Bed and Breakfast
Address: Loc. Sarrala - Marina di Tertenia 08047 Tertenia (Ogliastra - Sardegna)
Telephone : +39.0782.909005 
Fax : +39.0782.909156 
E-mail : info (at) hoteljanas (dot) com
Web Site: www.hoteljanas.com
Number of Rooms : 10
Open : From May through to August
Check In/Out : The rooms are available on arrival day from 02:00 pm. The room must be vacated, on the departure day, before 10:30 am
The Hotel :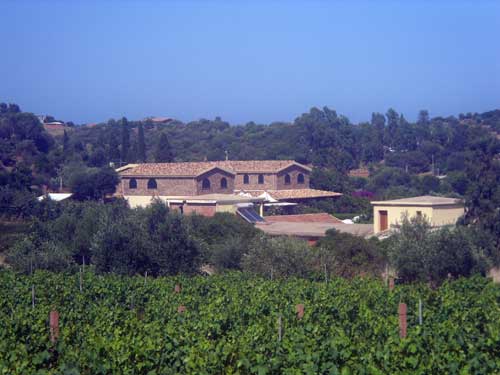 The hotel was built in 2001/02 with our guests in mind. We wanted to create a small and cozy setting in the countryside yet near to the beautiful beaches. With this mind we decided to offer a total of 10 bedrooms so that we could create an intimate atmosphere.
Overall you will find it a quiet and peaceful ambiance, only at weekends it may became slightly busier as our restaurant to open to everyone.
Hotel Facilities
• Restaurant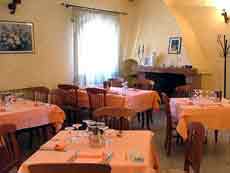 • Bar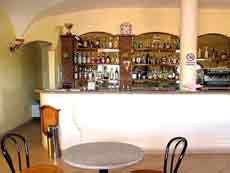 • Parking
• Swimming pool
• Conditioned air
• Terrace
• Continental Breakfast
• Newspapers
• Tour Desk
• Disabled accessibility
• Nighttime doorman
• Service fax
• Safe
Our Accommodations :
The hotel building is constructed on two levels. The ground floor is dedicated to the reception area, a bar, an indoor dining area, an outdoor eating area. On first floor are situated the rooms.
We have a number of choices of rooms, so if you are considering visiting us this summer please do not hesitate to ask if you have any particular request about sleeping arrangements as we will do our best, where possible to help.
The rooms are equipped with :
• Air Conditioning
• Heating
• Satellite TV
• Refrigerator
• Direct phone
• Hair Dryer
• En-Suite Bathrooms
• Luggage Storage
• Room Service
What's On The Menu :
Breakfast:
Breakfast is served in a buffet manner, a rich combination of sweet and savory delicacies to help you start off the day in the best way possible.
Lunch/Dinner :
One of things that we Sardinian's take pride in is out local typical foods. Some of our specialties are Linguine with clams and courgettes, pasta dishes like Malloreddus and Culurgionis that are handmade are a couple to at least try once. Porcheddu , which is suckling pig rigorously cooked on the spit roast, is a true Sardinian delicacy.
Our specialty of the house is Cannonau risotto. Of course our cooks are specialized in serving a wide range of meat dishes and also seafood dishes. The recommended wine here goes almost without saying and that is Cannonau di Sardegna for which Ogliastra is famous for.
You have a choice of enjoying your meals in the air-conditioned dining room or if you prefer on the veranda. Even if you book a bed and breakfast stay you are always welcome to book a meal in our restaurant.
Theme :
Overall our hotel offers a relaxing atmosphere perfect for older couples and for families with children. The hotel is surrounded by gardens set a fair distance from the main road, that gives children the freedom to play to their hearts content.
Occasionally in the summer months we host wedding dinners, on these days you may find the hotel a little more busier, I hope this does not cause any problems for you, then again you can always say you have seen how Sardinian's go on at a wedding!
Local Attractions / Things To Do :
The Sarrala plains are a rural area of Sardinia, just nature and beauty. It is an ideal place for walking hiking , trekking and mountain bikes. If you are interested in archeology , in the area there are 67 Nuraghi ruins. There are ways of reaching the tops of the surrounding mountains, where the views overlooking the Marina are simply breathtaking.
Strolling the long stretches of beaches and rocky coastline or simply relaxing on the warm sand soaking up the sun is certainly a great pass time. If you are coming with a car then there are plenty of places to explore in the nearby Towns. When you are here please do not hesitate to ask.
Here is a video with a collection of photos of the Marina di Tertenia ,
Getting To Our Hotel :
The nearest airport to our hotel is Cagliari Elmas (CAG), it takes about 1 hour and 45 minutes to get to Sarrala. In the near future the new road will be terminated making this journey shorter.
Flights to Sardinia
can give you more information about all the Sardinia airports.
For information about group bookings and arranging transfers from the airport please contact us in advance.
We sincerely hope that you take us into consideration for your next Sardinia holidays. To contact us please go to
Sardinia Hotel Janas
there is more information about out Hotel on this page and you can use the Contact Form with all the questions you have and we will get back to you ASAP.
Best Regards
Antonio and Anna