Hotels In Santa Maria Navarrese
Hotels in Santa Maria Navarrese, here you'll find a selection of Ogliastra hotels in the small fishing community which actually belongs to the mountain town of Baunei.
This little picturesque community attracts many tourists and is a favorite place of the locals from nearby villages. I personally love this place as the atmosphere is so warm and welcoming and although I live nearby when I do go, I feel like I'm on holiday here.

Santa Maria has a tourist harbor with boats and yachts anchored, Here you'll be able to find ticket boxes to sail out on one of the numerous boats that are organized to visit the beautiful Baunei Beaches and coast line.
Here's a quick peek view of what you can experience and to see more check out Baunei beaches.
During the summer months many events are organized here and in nearby villages. You are also spoilt for choice when it comes to restaurant , pizzeria's and ice parlors.

The location is perfect for everything, whether you looking for peace and relaxation or a central spot for some great exploring adventures in Ogliastra.
---
Tour The Hotels in Santa Maria Navarrese
HOTEL LANTHIA RESORT ****  
Via Lungomare 1- Santa Maria Navarrese - Baunei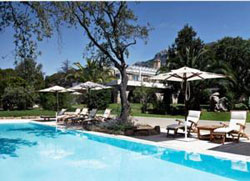 A most charming resort that blends in perfectly with all Sardinia stands for. Simplicity yet strikingly graceful with a warm and welcoming atmosphere immersed in the picturesque setting of the fraction of Santa Maria Navarrese.
28 rooms available from standard to deluxe a attractive swimming pool ornate delightful gardens that over look the alluring coastline.
The restaurant offers an excellent quality of dishes created with what our land provides that enchances the flavors or our traditions.
More Information and Checking Availability
Hotel Lanthia Reviews
---
HOTEL AGUGLIASTRA ***
Piazza Principessa di Navarra- Santa Maria Navarrese - Baunei,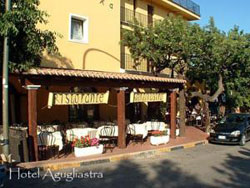 The Hotel Auguliastra has been receiving guest since 1964. The hotel is in the center of the fishing village of Santa Maria Navarrese overlooking the main square.

Great panoramic views of the Gulf Of Arbatax in the distance.

Breakfast is composed of an array of sweet and savory goodies served in a traditional Italian style or buffet.

The restaurant is about 200m away from the actual hotel along the walk path towards the port of Santa Maria. You have the choice of dining indoors or out on the veranda with sea views of the Santa Maria port.

Services provided include organization of excursions and airport transfers on request, do ask in advance. 
More Information and Checking Availability
Hotel Aguglistra Reviews
---
HOTEL NICOLETTA ***  
Via Lungomare 1, 08040 Santa Maria Navarrese, Baunei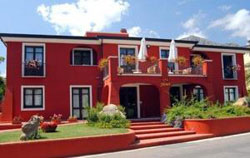 The Hotel Nicoletta is located on the main road just a couple of minutes away from the main square in the village.
A fairly small family run hotel with 28 rooms available.

A rich buffet breakfast to start the day off in the right way with fresh fruits and genuine local products.

The restaurant is about 100m away from the hotels where you'll find an excellent service and tasty dishes and a great selection of Sardinia wine, be sure to taste the Cannonau di Sardegna, OK I'm being bias here... but ask for the one from Jerzu!

The staff are always on hand for your needs and will help you organized excursions and point you in the right direction to explore this wonderful area.
More Information and Checking Availability
Hotel Nicoletta Reviews
---
HOTEL MEDITERRANEO ***
Via Lungomare, 08040 Santa Maria Navarrese
The Hotels Mediterraneo is the ideal location for those who want the beach at their doorstep, just 30 meters way you'll discover the Tancau beach and with a little more exploring many more of the splendid east coast beaches.
See the video presentation that shows this beach and others nearby.
The restaurant takes pride in its typical Mediterranean cuisine a vast assortment of meat dishes and seafood dishes to delight the pallet.

There are 30 rooms all with private bathrooms that have a terrific view of the stunning coastline, a marvelous sight for soar eyes
More Information and Checking Availability
Hotel Mediterraneo Reviews
---
HOTEL SANTA MARIA ***
Via Plammas, 30, 08040 Santa Maria Navarrese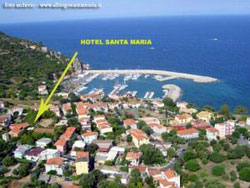 Hotels Santa Maria is about 200 meters away from the central beach. Located in the center of the village is not far from the main square.
Walking around in Santa Maria Navarrese is a breeze, as everywhere is close being a small village.
If your thinking of staying in the village then this is fine but if you like the idea of travelling round then Car hire is the best solution, unless you're coming in your own.
The hotel also provides rentals of scooters if you fancy a ride out touring Italian style.

This is of course nature lovers paradise with all there's to discover and the staff are equipped with all the info you'll need to get the most out of your Sardinia vacations.

Other services provided are; laundry, reserved beach with umbrellas and sun beds, dinghy rentals to explore the coastline at your leisure and transfers from ports and Sardinia airports are available on request. See flights to Sardinia for more info about the best solution for you.
More Information and Checking Availability
Hotel Santa Maria Reviews
---
Other pages related to Hotels in Santa Maria Navarrese;
You may or may not find what you are looking for here in Santa Maria, the hotels in Arbatax are just a little further along the coastline where you will find more for more options.
You could also take a look at that the rental accommodations available in Santa Maria, it really is a lovely way of experiencing this Island.
I have to admit they many are put off coming to this lovely area as it can be bit difficult especially if you are not renting out a car.
Take a look at the different ways of getting to the Island for more help.
Still unsure about where to stay in and what type of accommodation to choose?
Use the directory to find an ideal holiday accommodation for your vacations
---