Hotels in Ogliastra
Tour of 3 Star Sardinia Italy Accommodations
Dotted Around
The Majestic Mountains
The 3 Star Mountain tour of Hotels in Ogliastra. Although the wonderful east coast beaches of this Province are one of the main attractions of vacationsin this area. Beaches are not everyone's ideal vacation destination.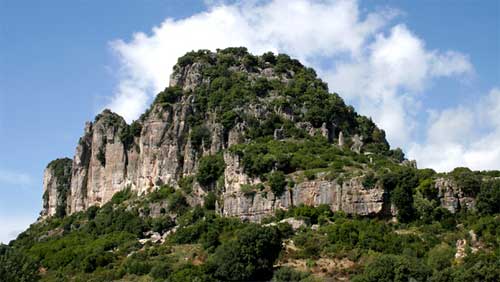 This Province is very popular with motor biker's that love touring around the windy mountain ways, hiker's that adore exploring the old trails in the countryside and mountain plains, and free climbers that are attracted by the challenging lime stone mountains with those walls that scream out… climb me!
The mountains are of course not just about practicing all these sports it is also about serenity and stillness and harmony immersed in natures rural beauty,  an excellent choice if escaping an hectic busy city life.
Here I will show you around two hotels in Ogliastra one in the countryside belonging to the village of Jerzu and other in the close by village of Ulassai.
These two hotels are in fact quite close to each other but set in two completely different environments, yet both benefit from the superb surroundings.
If you still fancy a ride out to the splendid east coast beaches it's about a 25 minute drive to the closest, the Marina of Cardedu.
---
Rifugio D'Ogliastra Jerzu
Loc. Sant'Antonio Jerzu
Hotels In Ogliastra - Rifugio d'Ogliastra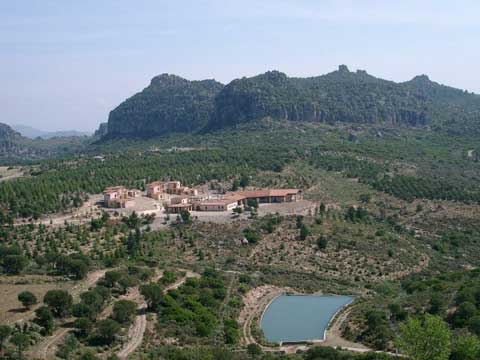 Sant'Antonio is the name of the locality that rises high above the village of Jerzu which is about 3 Km away. The Rifugio D'Ogliastra hotel enjoys this isolated position surround by rugged mountain creations,  Mediterranean Marquis and pine woods that leave the air with a distinct perfume.
The hotel structure merges in perfectly with its environment,  natural stone walls and wooden beams a traditional Sardinian rustic ensemble.
Hotels In Ogaliastra - Sant'Antonio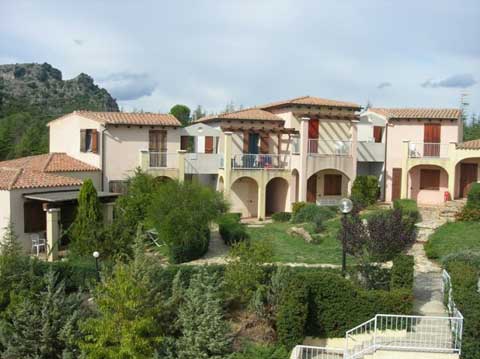 The accommodations are arranged at the side of the main reception in small comfortable villa style apartments that accomplishes the resemblance an old Sardinian village.
The hotel has an onsite restaurant with tasty local dishes like curlurgionis and spit roasted suckling pig an excellent wine list where the Cannonau di Sardegna made in the local winery,  is one to remember to put on your list to try.
A wood oven pizzeria is also available for pizza lovers. Both the restaurant and the pizzeria are open to the public as well so even if you're staying down at the beach, why not have a drive in to the cool mountains one evening and give their cuisine a try.
For hikers, trekkers and free climbers,  you couldn't pick a better place to stay in Ogliastra.
The trails are infinite, hiker's will adore the Monte Corongiu and many others and as far as mountain walls to climb, you're just spoilt for choice and this is all practically at the Hotel Rifugio D'Ogliastra's doorstep.
The staff are well informed and will be able to put you in the right direction so that you will get the most out of this area of Ogliastra has to offer.
More Information and Checking Availability
Hotel Rifugio D'Ogliastra Reviews
---
Hotel Su Marmuri
Hotels In Ogliastra
Hotel Su Marmuri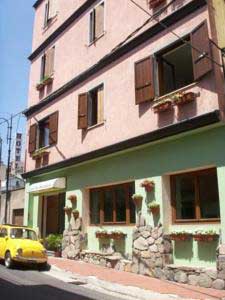 Corso V. Emanuele 20, 08040 Ulassai 
The Hotel Su Marmuri is located in the center of the small mountain village the rises at about 500 meters at sea level known as Ulassai.
This is a typical Sardinia community nestled  at the mountain  heels  of Ulassai and  the Mount Tisiddu.
Characterized by narrow cobbled streets, old houses renovated and some left to ruins. 
The family run hotel has 18 rooms with all the comforts to ensure a pleasant stay in the center in one of the most beautiful natural showcases of rural landscapes.
Santa Barbara  a locality of striking beauty is just a few Km away. During the winter when a sufficient amount of rain falls, you can stand at the footsteps of the roaring cascades that can been seen also from the Sant'Antonio locality.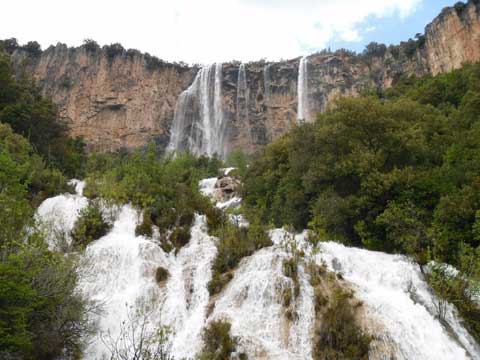 Ulassai is also famous for its showcaves known as Le Grotte di Su Marmuri.
Su Marmuri Sow Caves
Su Marmuri
The caves are open to the public with guided tours, just remember to put a pair of socks on and take a cardy with you as there is a constant 10° C inside that can make your toes curly up.
You could always kill two with one stone here as there a  lovely restaurant that serves typical local cuisine, delicious Italian cookies and a wooden oven pizzeria ideal for a pleasant cool evening out in the mountains.
If  you do go, surprise them and tell them who sent you; Susanna from the cake shop down in Jerzu.
Climbing In Ogliastra
Ulassai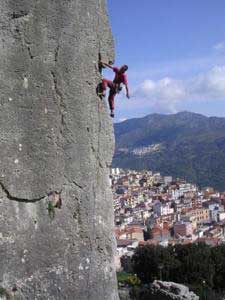 Scala San Giorgio
Osini - Ogliastra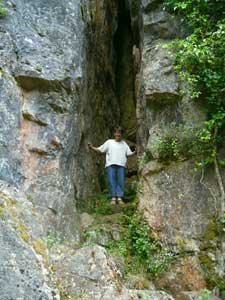 Hiker's and trekker's will be in their haven and the staff at the Hotel Su Marmuri have all the info you'll need to explore the best trails and paths.
Just  the idea of hiking makes me tried and if you feel the same you can still roam these beautiful areas in quad bikes.
The Tacchi of Osini are also very close by where you can admire spectacular factures of the rock masses of Scala San Giorgio and visit the numerous archeology sites scattered around.
More Information and Checking Availability
Hotel Su Marmuri Reviews
---
Other pages related to Hotels in Ogliastra that may interest you are:
Ogliastra Hotels is where you'll find a couple more charming hotels in Ogliastra that dwell in the lovely mountainous landscapes.

Travel to Sardinia can help you finding the best route to choose to arrive in Ogliastra.
You may also like to browse the vacation homes rentals that are available in Ogliastra and find out how it can be a wonderful experience.
If you would like to more for more accommodations in different areas of this Island pop over to the accommodation directory or use the search box below
---