Jerzu in The Province of
Ogliastra 
The village of Jerzu dwells in the hillsides of the
Province of Ogliastra
, surrounded by the majestic limestone mountains of Procu e Ludu and Trioscu.
This small village is my home town  and it is where my parents originate from, and in all honestly I didn't know that that this town is one of the first documented villages of Sardinia along with Ulassai.
Jerzu has an ancient history  that dates back to 1130. Where  the first mention of the village with the name Jerzzu  and  Ertho is registered in the 'Le Carte Volgari' by A. Solmi.
The village is a small community made up of about 3200 people. The village is quite self sufficient; bank, post office,  a number of specialised schools, grocery shops, bars,  hotels, churches  and of course  the winery Antichi Poderi where one of Sardinia's most famous wines is produced Cannonau di Sardegna.
Jerzu La Città Del Vino
Our local winery is definitely a place to visit, they will show round the winery and you can even have your photo taken in the wine cellars, just like to one I did on my types of red wine page.
Oh... and of course don't be shy to ask for a taste!
If  you  ever come to Jerzu it is quite easy to distinguish the areas of old town with the new.
Village In the Province of Ogliastra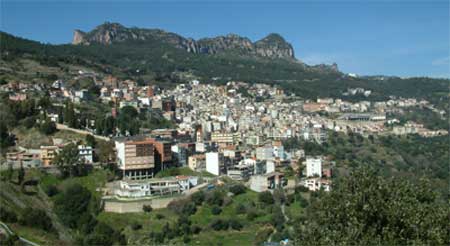 Walking around the town it is hard not to notice just how many houses are not resided in. Most of them are in fact old houses that belong to the towns history. These houses are full of character that testimony how our ancestors lived their life.
One of the characteristics of an old Sardinian house is the size of the front door... they are so low!
Now whether or not that has to do with the average height of a Sardinian I don't know...
I just hope I don't need a disclaimer for that statement!
Many of the houses have just one room per floor,  life certainly couldn't have been easy especially when you think that many families counted more than five people.
In this town like in many other towns in Ogliastra when they have the possibility the preference is to build a house  on the outskirts mainly for more privacy and room.
So what happens to their old house? In many cases they are abandoned  or left closed ready to be past down in the family. Some are put up for sale opening the doors for those seeking holiday homes on the island.  And other's are furnished and are offered as town houses for rent by owner.
Places to stay ...
In the actual town there are two  hotels. Both are family run business;
Hotel da Concetta specialised in exceptional typical Italian foods as do all the certificates hanging on the wall of her restaurant demonstrate.

Now don't be surprised if you find Concetta dozing off behind the counter in her bar, she works all hours god sends, just give her a shout, she'll will be bouncing with joy and making you feel utterly welcome.
Hotel Sul Rio in the centre of the town , is quite a large hotel, where you'll find an excellent restaurant and tasty pizza's cooked in an traditional wood oven.
Moving slightly out of town Il Rifugio D'Ogliastra hotel is situated in the mountains of Saint Anthony about 3 Km. This too is a family run business. They have a great restaurant service and also a wood oven pizzeria, which I have tried out personally on many occasions. See hotels in Ogliastra for more information about this Sardinian accommodation.
The accommodations are made up of a collection of little bungalows, two bedrooms a bath room with a small patio area perfect for a little chill out time.
Moving further out of town about 8km but still belonging to Jerzu's territory you'll find the Residence Is Murtas. This delightful complex is located in the hills of Pelau complete with restaurant, wood oven pizzeria and a beautiful swimming pool all about 3km from the stunning beaches.
Holiday in an Agritourism is a great way to experience some genuine Sardinian food,  there are two that are run by people of Jerzu;
Agritourism S'Omu Eccia... Marisa Carta
Free climbing is one of the attractions that brings many people to this area and in particular to this hotel  as it is surrounded by over 200 nailed pathways. For those of you are looking to do some trekking you may just want to take a closer look at this area as it has some very interesting paths.
Free Climbing in Jerzu Courtsey of Marco Loi
Other attractions near Jerzu Ogliastra are;
The caves of Su Marmuri in the neighbouring town of Ulassai
The antique archaeology site of the Nuraghe Serbissi in Osini, which is also very near
The antique archaeology site Sa Domu 'es'Orcu on the outskirts of the village
The Scala San Giorgio in Osini
And if your in need of a bit of sea air one day then the splendid east coast beaches are only a short drive away.
If you would like to visit this area but you are no sure about the best place to see and how to; you can always contact a group in Jerzu known as I Tacchi D'Ogliastra, they organise trekking, quads and mountain bike excursions.
After all that free climbing and trekking, no doubt you will have built up a healthy appetite. So let's get educated on some tasty typical Italian foods that Jerzu is renowned for...
Jerzu's Coccoi Prena  are certainly well known. In this town there are 5 pasta fresca shop's where you'll be able to pick these delicious potato cakes.
Coccoi Prenas
Susanna's Pizzeria and Bar
Lidia's Pasta Fresca
Giuliano's Pasta Fresca
Virginia's Pasta  Fresca
Rossana's Pasta Fresca and Pizzeria
You'll find this tasty delicacy  mainly  freshly cooked in the evening, perfect for a quick snack.
Coccoi de Tamata is what many tourists call a Sardinian pizza. It has nothing to do with pizza apart from the fact it is flat and often it t it made in to a round shape.
I absolutely adore this typical food and while taking nothing away from those who make it in town, the best Coccoi de Tamata I have ever tasted is the one my mother-in-law used to make… It was truly out of this world!
Culurgionis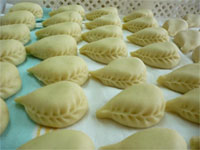 Now if there's one thing that Jerzu is renowned for and that is a first course pasta dish, which many call agnolotti.
But come on, if we are going to order then let's  at a least try and do it properly by asking for Culurgionis…
What!!!!!
I know a bit of a mouth full, but here's the pronunciation (COO  LOOR  G ON  IS) , come on give it a go!
Culurgionis sounds like something really exotic, well as far as the taste goes they are, although they are with simple ingredients.
Every culture has its bizarre food and we are no different. Here are a couple for you to take a look at.
Or
I'll leave it up to you to decide...
Your reactions are so welcome,  so do please comment them!
Time for some after's,  with an assortment of scrumptious Italian cookies… a subject that is that is right up my street!
Gattò is basically an Old Italian nut brittle recipe that really does have a unique traditional way of being served.
Amaretti cookies, the bitter sweet taste of these Sardinian almond cookie is an authentic taste of of our specialities.
Pardula, is an Italian Easter cookie. It is traditionally made in this area with fresh unsalted pecorino cheese but they can also be made with ricotta cheese.
Goeffus, are almond paste cookies wrapped up paper and look like sweets. What characterizes these almond balls is the fact that are flavored with the zest of fresh lemons and in many cases also fire water… No you can't get drunk on them!
Bianchini are made with a simple meringue recipe, that have the added luxury of toasted almonds in the center.
Pabassine are traditional Italian Christmas cookies.
So where can you find these treats?
In town there are actually three Pasticceria's that specialize in making Sardinian cookies one of which is my own. Pasticceria La Via Dolce. Now I could tell you all  to come to my shop but that wouldn't be fair but if you do decide to come please present yourself , the least I can do is offer you one of our Specialties!
The other two cake shops in town that also make delicious Italian cream pastries are;
Pasticceria Belvedere… Favio Vargiù
La Casa Del Dolce …Antonio  Corgiolù
Traditional Dress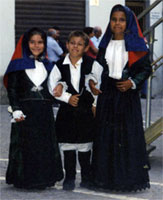 For the best part of the year, Jerzu lives an everyday tranquil life.
Throughout the year a number of religious festivals are celebrated each one with its own ritual.
In these occasions you will be able to see the towns traditional national costumes. As you can see in the photo even young children are proud of their customs!
This is Jerzu's religious festival calendar;
Sant'Antonio di Padavo
8th December ...The Immaculate Conception
13th December…Santa Lucia
17th January.. Sant'Antonio Abate
20th January San Sebastiano
First Sunday in the month of May... Madonna delle Grazie
2nd June...Sant'Erasmo
13th June Sant'Antonio di Padava
25th and 26th July...San Giacomo and Sant'Anna
15th...August...Vergine Assunta
Other events that take place in Jerzu are food and wine festivals...
La Sagra del Vino...Jerzu Wine Festival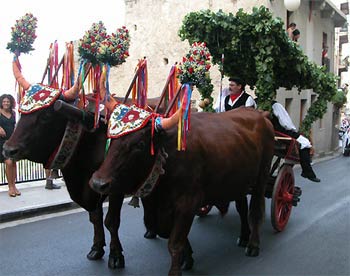 La Sagra del Vino that is nearly always celebrated on the first weekend in August
Calici di Stelle that is always celebrated on the 10th of August
The Novello Wine Festival that is celebrated in November but always after the 6th.
This is a brief description on the subject of, what life is all about in Jerzu.
Main Road Jerzu as It once Used to be Courtsey of Vincenzo Giacu
---