Amaretti Cookies
Sardinian Style!

The Best Authentic Italian Recipe for
Traditional Soft Cookies
Italian Amaretti cookies recipe ... Sardinian style!
The first time I had a go at making these almond cookies was in 1987.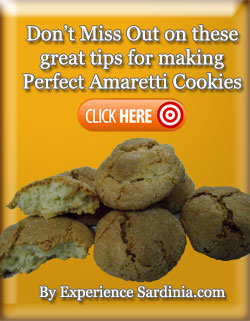 I came to Sardinia to learn how to make Italian cookies in a small cake shop in Jerzu.
The Amaretti recipe I will be showing you is an Old Italian recipe that I came across after a few years of opening up my own Pasticceria.
The name Amaretti stems from the Italian word Amaro which means bitter.
In fact the essential ingredient that distinguishes these Amaretti cookies is the use of bitter almonds.
Bitter almonds are quite easily found here in Sardinia, if I'm honest I am not quite sure if they readily available in the rest of the world.
If you can find bitter almonds, all the better as your Amaretti cookies will be more authentic, if not you can always use almond essence.
I was offered an amaretto biscuit at friends house in a town nearby, they were delicious, I couldn't resist, I asked for the recipe and I have never changed it.
The types of almonds you use and also the quality of the almonds determines a significant difference in your results, use the link in the box for more information about types of almonds.
Here you will find the traditional Italian amaretti recipe, so that you can get straight to work on making these soft centered amaretti biscuits.
This amaretti recipe makes about 13-14 amaretti.
Ready to start?
Great!
Utensils
Mixing bowl
Baking trays
Grease proof paper
Dish for the sugar, to roll raw cookie in.
Cup of cold water (for wetting palms of your hands)
Food processor (if you decide to blanch your own , how to blanch almonds will help you with this process)
Ingredients
250g/9oz Sweet almonds
25g/1oz Bitter almonds or 2 drops of almond essence
200g Granulated sugar
½ Small Lemon rinds grated
160g to 180g Egg whites (one egg white wieghs about 30g so you will need about 5-6 eggs depending on the size)
Extra Sugar
Method
Once you have bound all the ingredients...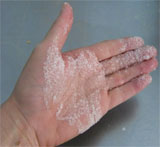 Dampen the palms of your hands with a little water and press them into sugar
This helps to prevent the mixture sticking to your hands.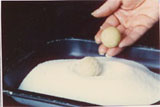 Roll a small quantity of mixture
( roughly the size of a ping pong ball )
Roll the ball in the dish of extra sugar
Place on the baking tray
Place in a pre-heated oven 160 °C
What are you looking for?
A perfect amaretto should;
slightly rise
be a nice dome shape
full of crakes on the surface
The photo below shows how the cookies should look after about 10 minutes in the oven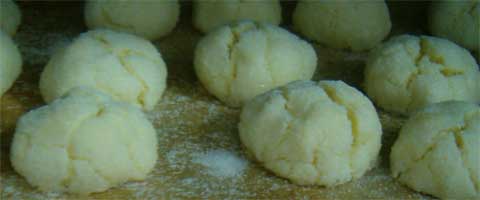 They take about 20-25 minutes. When they have a nice even golden colour then they are ready.
Here you will find more tips about baking these cookies.
Enjoy baking this Italian Amaretti recipe one of Sardinia's tradtional and favorite cookies and even more eating them!
If you would like to know more about this amaretti cookie recipe and are interested in more tips and advice that will help you succeed further, use the link in the box at the top of the page.
I do recommend it before you actually tackle this recipe.
With Amaretti the old saying goes; if at first you don't succeed, try and try again! If I hadn't took this piece of advice I wouldn't be still making them today.
Don't be shy... I haven't got a photo of my first attempt shame; it would comfort you to know there is always first time for every one! 
---
Italian Cookie and Biscotti Recipe Books on Amazon
Here are a few more pages that talk about almonds cookies that may interest you:
Almond Paste Recipe – An easy almond paste recipe, that is perfect that is used to make traditional Sardinian Cookies known as Goeffus, but can also be used as a perfect base for many other almond cookies.
Almond Paste Cookies -  Shows you how to delight your guests with these authentic almond cookies from Italy.
Almond Balls -  Will show you how a simple almond paste can been transformed into a variety of tasty cookies with all sorts of favorite flavors.
Nut Brittle Recipe – Two simple ingredients Toasted almonds and sugar , one of my Grandma's favorite Italian Holiday cookie recipe Gattò.