Simple Almond Balls
Italian Almond Paste Cookies
With Your Favorite Flavors
These mouth-watering almond balls are a piece of cake to make!
Now if you want to take the easy way out whether for time sake or other you can of course use readymade almond paste.
OR…
Why not go the full hog and make these almond cookies in the real authentic traditional way using my super easy Italian almond paste recipe. It will be well worth the effort!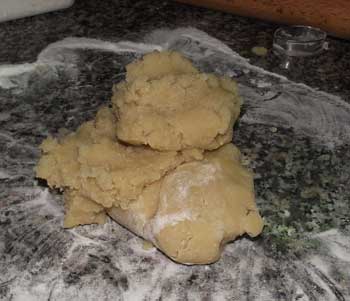 Once you have made up your basic almond paste, it's just a case of what takes your fancy and what you can basically get your hands on (other ingredients I'm talking about!)
Almond paste on its own has a delicate flavor that blends perfectly with practically all types of flavorings.
In addition, this almond paste is a great base for adding other ingredients, especially as you are making them in to almond balls.
Just a quick point to make about adding liquids to almond paste. Whether you are making your own almond paste or whether you have picked up a packet of readymade
, always add liquids like liqueurs  gradually in order not to make your paste too soft.
Here are a few ideas for you to try:
Adding sultanas or raisins, any kind of candied fruits like orange peel,  cherries or even dried fruits like apricots and desiccated pineapple are all perfect additions to make truly scrumptious almond balls.
When I use fruits to make these cookies, I like to soak the fruit in some kind of liqueur for a few days before making them for extra added flavor.
For example
Raisins soaked in Rum
Cherries soaked in Kirsch
Orange peel soaked in Curaçao
Apricots  soaked in Maraschino
Dried pineapple soaked in Marsala
There are rules with what liqueur you should soak with which fruits, sherry works well with all fruits if you don't have anything else.
Other ideas for additions to your almond balls are chopped nuts. Walnuts, hazelnuts, pistachio nuts Brazil nuts,  basically any type of nuts are fine.
I do recommend that the nuts are toasted as this enhances the flavors even more.
Chocolate chips , milk, dark or white chocolate are other ideal additions. Small chips are better and if your chopping up your own chocolate do it finely.
As you can see the sky is the limit, no doubt I have missed out other combinations and may be even ingredients, so if you come across anything new, why not drop me line and share your discoveries.
Your next question is probably what are the quantities of the ingredients I need to add… Good question.
In all honestly I never weigh way when I am experimenting, but I can give you a rough guideline to what I do.
If I am making up 500grams of ground almonds into almond paste I would add anything between 100 and 200 grams of fruit, nuts or chocolate.
Like I said before there are no rules, so add your ingredients' gradually using your good judgment and do the old fashion testing… taste it!
OK…
You have your almond paste and you have mixed in your desired ingredients.
Roll out the almond paste into small balls and place on a tray to dry out for a couple of hours if you have intentions of covering them in chocolate candy coating.
Otherwise roll out the balls and roll into sugar, place into candy cups
ready to be served.
Hope you enjoy making these almond cookie balls and more to the point I hope you enjoy eating them.
Just remember don't be afraid to experiment!
---
Just remember don't be afraid to experiment!
Here are some more traditional Italian Cakes made in Sardinia and I love experimenting on different ways of presenting these cookies  to my customers by  transforming them into fun cookies for the Christmas season.
Wreath Cookies are an elegant Christmas favorite and you can be as original as like even with colors.
And you can't get more traditional than trees cookies at Christmas whether they are large and super decorated or small tasty bite size treats.
You can go to town with Cut Out Cookies at Christmas time as the theme has so many possibilities.
Have you ever thought about using a simple meringue recipe to create something special for your festive season spread, like these sweet meringue cookies.
Share your best ideas and photos of Christmas cookies with us and keep up to date with new pages published at Sardinia Blog.
Happy Baking !