Meringue Cookies
Ideas For Christmas
Making meringue cookies for Christmas does have the advantage that you can make them well in advance.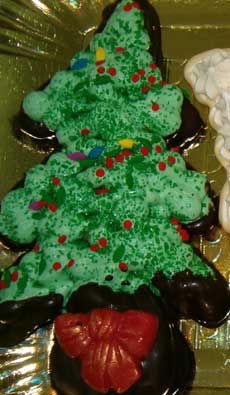 To make a perfect meringue to have to have a good basic meringue recipe.
There are quite a number of basic meringue recipes that use different mehodas and in some cases slightly different ingredients.
What type of whisk you use also contributes to how your meringues will turn out.
Now that you have a good meringue cookie base to work with let's take a look at some ideas on making meringue cookies for
Christmas.Christmas is a special time of the year where everything and anything can be dressed up for the festive season, even our meringue cookies.
Classic Christmas cookies made out of meringue are snowmen.
To make these meringue snowmen;
You can use my meringue recipe or if you have one that you find works well use that one
Prepare a baking tray with grease proof paper
Prepare a piping bag with a large round nozzle about 1.5cm diameter
Pipe the snowman's body on to the lined baking tray, the size really depends on how big you want to make the meringue cookies, just remember the proportions, body: head
Pop the piped snowman's' bodies into the preheated heated oven (100°C) and leave for about 10 minutes
Take them out of the oven and pipe the heads on to the bodies and replace in the oven until they are completely dried out.
Once the cookies are dried out and have cooled down you can decorate them to your pleasure.
I like to dip the body of the snowman in white chocolate and roll them in white desiccated coconut, gives it the snowy effect...yeah!
Using the same procedure you can also make these Father Christmas's. 
Meringue 3D Santa Cookies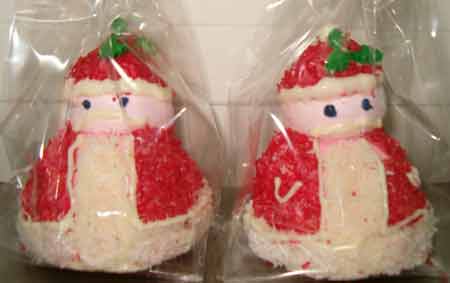 To color meringue, remember to use only powdered colors and to add it when the meringue is almost ready.
Another way to turn a simple meringue into fun Christmas cookies is by making Christmas shapes.
Here's how to make shaped meringues for Christmas;
On a piece of paper the same size of your baking tray, draw an outlined template of the shape you wish to create.
Use a thick black marker pen as it will show better through the greaseproof paper
To make the shapes in the photo's I used a large cookie cutter and drew round them for ease.
Draw as many shapes  as you can, remembering to leave sufficient space between each cookie as meringue does slightly rise.
Place the template on the baking and cover with a sheet of greaseproof paper
Flat Meringue Sleigh Cookies
The type of nozzle to use depends on the size of the meringue cookie you are making, the smaller the cookie the smaller the nozzle.
Whether you use a writing or star nozzle depends on the effect you wish to create.
Ex. For the snowflakes I used a star nozzle whereas for the Santa's sleigh a writing nozzle was more appropriate.
Choose your nozzle and simply draw with the piping bag the outline of the shape first and then fill in the shape. Make sure you don't leave any spaces as they will weaken the cookie.
If you wish to sprinkle edible confetti these snowflakes are just perfect.
or colored sugars to the cookies, you must do it before you pop them in the oven.
These silver flakes just make them look so precious.
To make this meringue snow flake cookie
Flat Meringue Snowflake Cookies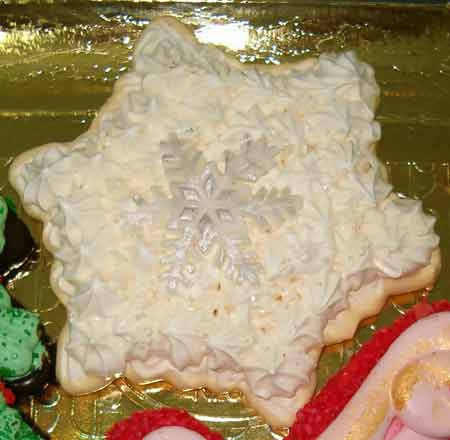 I first sprinkled some edible snowflake confetti and them added some silver sugar before popping in the oven.
For more information about baking your meringues cookies take a look at meringue recipe.
Once they were dried out, I used a snowflake plunger cutter and cut out a snowflake out of sugar paste and glued it to the center of the meringue cookie with white chocolate.
I then painted some silver luster dust
on and finished them off with some sparkling silver glitter
Talk about OTT, I know... but it's Christmas!
Meringues can be made into practically any kind of shape, all you need is your fantasy head on.
---
Other pages that may interest you are: