Christmas Cut Out Cookies
Christmas cut out cookies, shaped cookies, novelty Christmas cookies or whatever you wish to call them one thing remains the same they are so much fun to make.
This for me as I'm sure is for many, the perfect season for baking as the Christmas theme has so many possibilities to create many fun and original Christmas cookies.
When making cut out Christmas cookies it is best to use a cookie recipe that during baking doesn't lose its shape much. A simple sugar cookie recipe is ideal., but if you would like to try an authentic Italian recipe, try this Italian Biscuit recipe it  is perfect for making cut out Christmas cookies.
So what shaped cookies can you cut out ?
Every shape possible if it fits in with the Christmas theme and more besides....
Apart from the most common shapes like:
On the market there are a wide variety of
Christmas Cookie Cutters
available like these you see below.
Cookie cutters or templates?
Cookie cutters are far easier to work with than templates. The only disadvantage with cookie cutters is at you can't always find the shape and size you are looking for.
That's when templates are a great substitute. Another alternative is to make your cutters, something I do quite often but that's a story on its own.
Here are a few of the out of ordinary Christmas cut out cookies, to give you ideas and hopefully inspiration to designing your own original Christmas cookies.
When making your own templates, download and print off the design to the size you wish to make your cookie. The ideal thing to do is to laminate the template, so that you can use it over and over again.
When making Christmas cut out cookies , I find that some shapes are a bit tricky (depending on the type of cookie dough you are using ) to transfer from the table to the baking tray. This of course can sometimes make your cookie go out of shape even before you have baked it.
1. Here are two ways that can help you. Laminate a large piece of card (bigger than the cookie you are making) Start off rolling out the cookie dough on the floured table, before finishing rolling out the dough to your required thickness, dust the laminated card, place your almost rolled out dough on top of the card and continue to roll out to the required thickness.
Cut the cookie out on the laminated card.
Remove the unwanted dough and slide the cookie carefully onto the baking tray.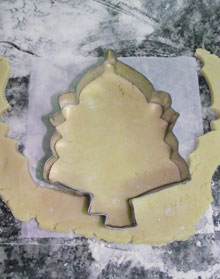 2. Alternatively you can do exactly the same as above using instead of the laminated card , you use greaseproof paper.
When I use this method, trying to transfer the cookie from the grease proof paper to the baking is tricky (again it depends on the size and shape of your cut out cookie) So an easier thing to do is,
Roughly cut out pieces of grease proof paper to the size of the cookie you are making.
Once you have your dough rolled out to the thickness required on top of the grease proof paper, cut out the cookie remove the unwanted dough and place the cookie on the baking tray with the paper.
This way you do not risk making your cookie out of shape.
I make lots of cookie templates and the best investment I made was in a Laminator, helps you save your templates for re-use and are easier to use, rather than trying to cut round a piece of paper.
---
Another way to make cookie cut out templates is by first choosing a chocolate (the larger ones are easier to do, like this Santa's Face).

Melt up some chocolate and pour in to the mold
Tap it a few times on the table in order to get rid of the air bubbles
Place it in to the freezer for a couple of minutes and then pop it out
Place the mold on a sheet of card and carefully draw the outline.
Cut out the cookie shape,  laminate and use as a template.
Feel free to download the PDF that contains most of all the templates for the Christmas cut out cookies shown above.
Right-click to download this PDF file here
.
You will need Adobe Reader (the latest version is recommended) installed on your computer in order to open and read this e-book. You can download Adobe Reader here (a new window will open so you can download it without leaving this page).
If you want to open the file in your browser window, just click on the link (not all browsers have this feature). However, if you want to download the file to view later, then right-click on the link and choose "Save Target As" or "Save File As." Then select where you want to save the file on your hard drive.
Once you have saved the file, locate where you saved it, and double click to open it.
In order to print, open the downloaded file, and select the "Print" option from the e-book menu.
---
Before I let you go I would like to mention, that looking for new ideas for fun cut out cookies for Christmas is something I do practically every Christmas and one of the ways I do this, is searching the Christmas clipart on the internet. This is where I found the idea for this Christmas Teddy cut out cookie.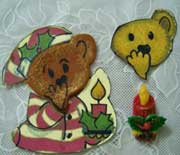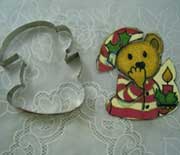 The photos show how you can transform a printed image into a fun Christmas cut out cookie.
So when you are stuck for new ideas, with a bit of research you will surely find something new to bake, decorate and then sink your teeth into!
Once you have baked your Christmas cut out cookies, next comes the fun part of decorating your Christmas cookies.
Coming soon will be pages about decorating Christmas cookies, if you don't want to miss out when they are published, why not sign up to my Sardinia Blog, easy to do and you won't miss a treat!
Merry Christmas to all and
Happy Holiday Baking!
Hope you have enjoyed this page about Christmas cut out cookies and have found it useful for next year's festive baking season, please pay it forward and share it with family and friends you know that love baking in the holiday season.
More photos of Christmas cookies, scoll through, like and share, thank you!


---
Other pages related to Christmas cut out cookies that may interest you are:
Fun Christmas cookies – Find the more common shapes and a few new ideas for you to try
Christmas Tree Cookies -  Large, medium and bite sizes Tree cookie ideas and designs with different decorating ideas
Christmas Wreath Cookies - Lots of decorating ideas and different colors schemes  
Christmas Meringue Cookies  - Ideas on to use my meringue recipe at Christmas time
Snowman Cookies - Frosty the snowman is always a best seller at Christmas and kids just love him, so why not bake some for them or even with them
Best Christmas cookies - is dedicated to you and your wonderful Christmas cookie creations, so if you would like to share your recipes photos, what are you waiting for!!
Easy Christmas Cookies - A simple cookie recipe that makes really tasty cookies.
---