Easy Christmas Cookies
Simple Treats
That Taste...Mmm!
These are really easy Christmas cookies to make. This Italian biscotti recipe known as Pasta Frolla , is used to make what we call Ciambelle Semplice which basically means Simple Cookies. They are  made with simple genuine ingredients and are perfect to eat dry and for dunking into hot milk.
The Ingredients:
200g Margarine (can be substituted with butter for a richer flavor)
500g All purpose flour or plain flour
1 Teaspoon of Baking Powder
a few drops of vanilla extract
Method: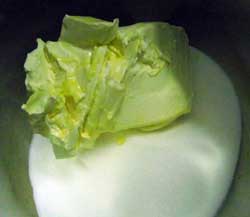 1. Cream sugar and margarine until light and fluffy (using a mixer helps to obtain better results)
2. Add eggs one at the time beating the mixture thoroughly after each addition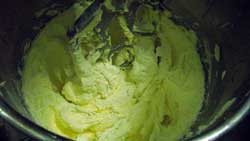 3. Scrape down the edges of the bowl a few times and beat thoroughly
4. Add the flour all together and stir in gently with the vanilla flavouring
5. Once all the flour has been absorbed
Leave it to rest for about half an hour and it will be perfect to roll out.
Side Note: If you would like to see a more detailed explanation of the three stages in the method above that do make a difference in end results, you will find it on my Italian Biscotti Recipes page. Although the recipe is different the method is the same.
Ok , Back to these Easy Christmas Cookies: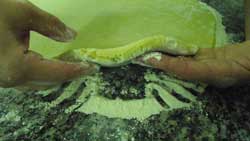 Flour the surface you are using and roll out the cookie dough to about 1.5 cm thick.
Christmas cookie cutters are the ideal shapes to use but you can of course use any shapes you like.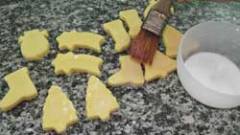 Once you have cut out your cookies, take the extra milk and lightly brush the top of the cookies and then place them in the extra sugar. The milk is used simply to help the sugar stick to the cookie.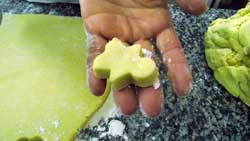 Place the cookies onto a baking tray the sugar face upwards. Space them out fairly well as these cookies do tend to rise quite a bit.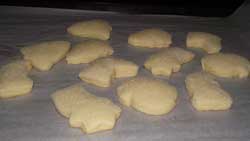 Place into a pre heated oven 180°C for about 12-15 minutes until a light golden colour.
Viola! There you have it, your Easy Christmas cookies ready to serve.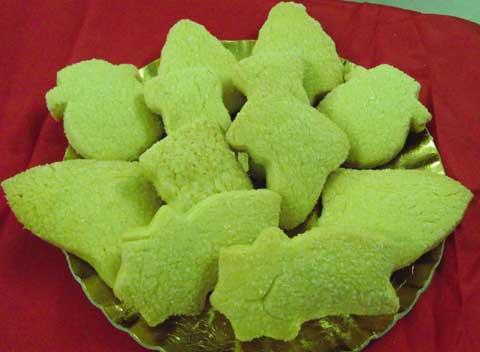 Merry Christmas to all and
Happy Holiday Baking!
Hope you have enjoyed this page, please pay it forward and share it with family and friends you know that love baking in the holiday season.
---
Other pages that may interest you are:
Fun Christmas Cookies – Lots of new fun shaped cookies for you to try
Christmas Wreath Cookies - Lots of pictures of Christmas cookies
Christmas Tree Cookies -  Tree cookie ideas and designs
Italian Christmas Cut Out Cookies - Here you will find a photo gallery of some new ideas for you to try with cut out cookies
Christmas meringue cookies  - Ideas on to use my meringue recipe at Christmas time
Christmas without Snowman cookies ? I don't think so… From simple sugar dusted to the more elaborate.
Best Christmas cookies - is dedicated to you and your wonderful Christmas cookie creations, so if you would like to share your recipes photos, what are you waiting for!!
The holiday season is very near, I will be busy baking and decorating Christmas cookies and be sure that I will take photographs of them all to share with you.