Christmas Wreath Cookies
Hand Decorated
The great thing about Christmas wreath cookies is that you don't really need to have a cookie cutter to make them.  
This cookie is a basic round shape, you can make them with or without the hole in the middle.
Everyone one has something that is a round shaped, to cut the dough out of, like a cup, or a glass or whatever.
There are Christmas wreath cookie cutters available with the shaped bow, which I have used for the majority of wreath cookies that are shown on this page.
Various Wreath Cutters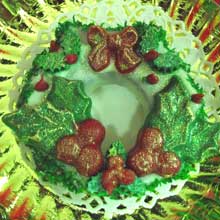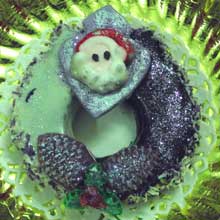 Wreath cookies have the great advantage that they can be decorated in so many different ways . You can make them as simple and as elegant or even super decorated and I love to exaggerate, after all  it's Christmas!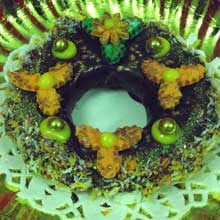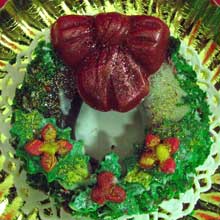 What types of cookie dough can you use to make these edible wreaths?
Believe me when I say practically all kinds of cookie dough's can be used. If you have a favorite dough that you prefer and feel comfortable using,  then give it a go. Just try out a couple to see how they turn out when baked.
For these Christmas wreath cookies in the photos below I have used a cookie dough that doesn't spread out too much while baking. It is question of preference but I like the cookie to have some depth, basically because I like to decorate the edges.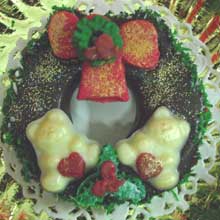 This easy cookie dough recipe, is a perfect dough to make a wreath cookie as it ideal for making thick wreaths and it doesn't spread out too much.
A wreath cookie can of course be made in all different sizes, from bite sizes like these almond paste treats
Wreaths Made With Almond Paste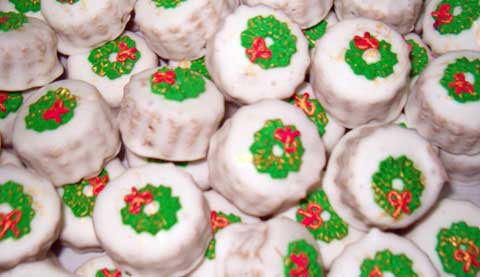 To individual sizes like these: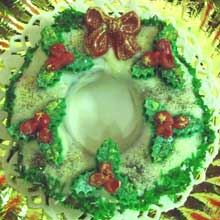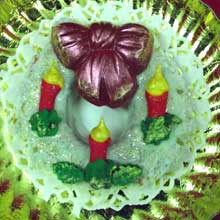 To giant size Christmas wreath cookies to share with family or friends.
A Sandwich Wreath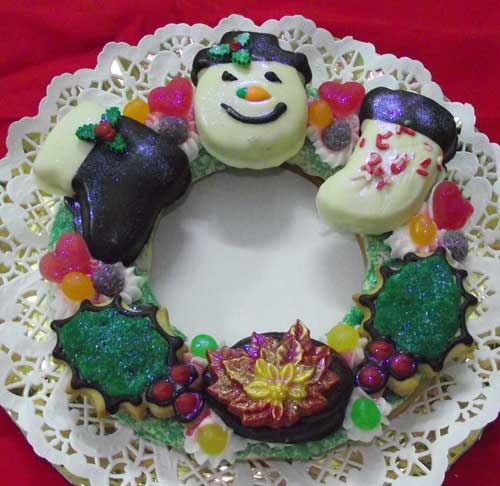 A wreath cookie doesn't necessarily have to be single cookie.
You can make two cookies and sandwich them together with your favorite filling and then decorate them to your heart's content.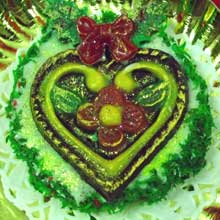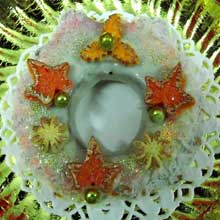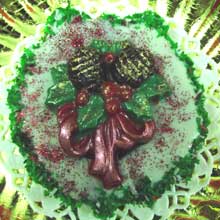 How to decorate Christmas wreath cookies
The two main ways of decorating Christmas wreath cookies are by using  icing or Chocolate candy melts .  If you prefer a simple Christmas cookie then you can use granulated sugar before baking or a dusting of icing sugar after baking.
Using icing  a method known as flooding you can of course  make some really beautiful creations.
I have to admit that I have never really used this method, the main reason being I am a little to impatience to wait for the icing to dry, Christmas is not far away as I am writing, so I will give it a go and share my results.
Another effective way of decorating wreaths is using piped royal icing.
A different way to decorate your wreath is by preparing in advance the decorations using sugar paste. Simply cut out the sugar paste using the same cookie cutter, decorate and apply to the cookie after it has been baked.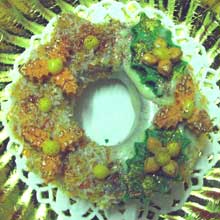 My favorite is chocolate, one because I prefer to eat chocolate and the other because chocolate dries very quickly.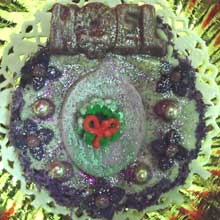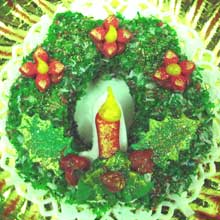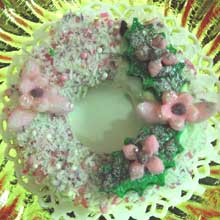 What to use and how to decorate Christmas cookies.        
Anything you can get your hands on…
Make your own decorations with candy melts and using christmas chocolate molds.
I am a great fan of colored coconut, especially for these Christmas wreath cookies. It gives them that mossy realistic effect.
As you can see from the photo, I just love to go to town on sticking on lots of cookie decorations. All the decorations you see here have been handmade, either using sugar paste or colored candy coverings with chocolate molds.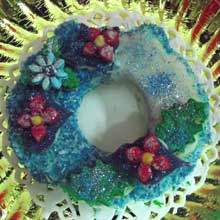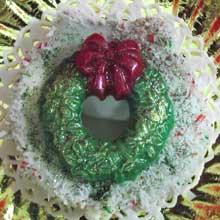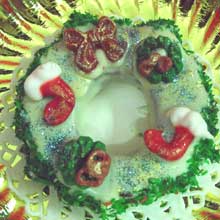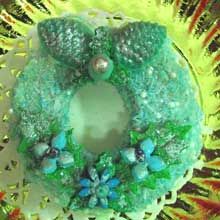 Sweets and candies are also a great solution to making your Christmas cookie not only attractive but fun and tasty to eat especially for kids,  Errr… and not only!
---
Other pages that may interest you are:
Fun Christmas cookies – Creating jolly fun cookies that light up the Christmas spirit on anyone's table
Christmas meringue cookies  -This meringue recipe is so versatile that you can use it in so many different ways
Italian Christmas Cut Out Cookies - Print off the free templates and try out some of the new shapes
Christmas Tree Cookies- Find different cookie cutter ideas and suggestions on decorating your tree cookies
Snowman Cookies - Kids adore Frosty the Snowman, so why not bake some fun cookies
Best Christmas cookies - is dedicated to you and your wonderful Christmas cookie creations, so if you would like to share your recipes and photos, what are you waiting for!!
The holiday season is very near, I will be busy baking and decorating Christmas cookies and be sure that I will take photographs of them all to share with you.
Merry Christmas to all and Happy Holiday Baking!
Hope you have enjoyed this page, please pay it forward and share it with family and friends you know that love baking in the holiday season.
---