Christmas Tree Cookies
Best Italian Cookie
Recipes For Christmas
Decorating Christmas tree cookies is so much fun and it's not just for kids.
I'm 45 years old and after twenty years of baking in my own cake shop here in Sardinia, Christmas has and always will be the best time of year for baking for me.
The Christmas theme has so many possibilities what with shapes, colors and those marvelous edible glitters that finish off any holiday cookies creation.
Christmas trees are just one of the festive seasons greatest symbols. So what could be jollier that offering tasty edible treats that when some looks at them , they almost feel guilty to bite into them.
Christmas tree cookies can come in all different  shapes and sizes.
Working with cookies cutter makes life a whole lot easier but when you can't find the shape and size you desire, simply make your own templates.
Draw outlines out Christmas trees on paper or card to your desired shape and size.
Cut them out and laminate them, so that you can use them over and over again.
If you haven't got a laminator you can use sellotape.
If you don't repudiate yourself a good draw you can check out these Christmas tree out lines.
Just save the image you like and print it off to the size of the cookie you want to make.
Now for what kind of dough to use for these Christmas tree cookies.
One of my favorite Italian biscuit recipes is perfect for making Christmas tree cookies.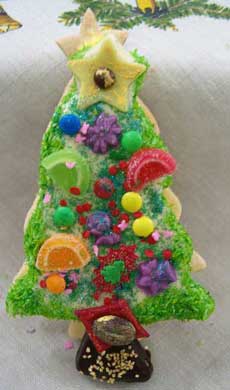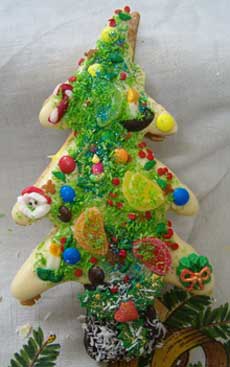 The reason I like this recipe is because it doesn't need much cooking and the cookies hardly lose their shape after baking, and simply because it  truly delicious.
If you have a recipe that you use, like and feel comfortable with then all you need to do is try it. Just cut out a few Christmas tree cookies, bake them and see what the results are and take it from there.
Simple cookie dough's like sugar cookies is a perfect candidate for making these cookies and of course the classic and traditional gingerbread.
Here are a few tree cookies that I have made using various recipes and mixtures.
Bite size almond paste treats
Italian Christmas Cookie
Filled With Orange Cream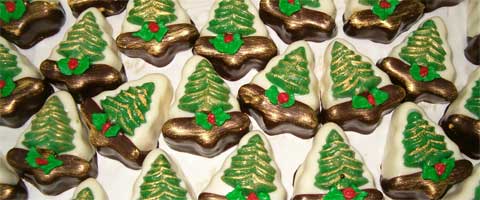 Christmas tree meringue cookie...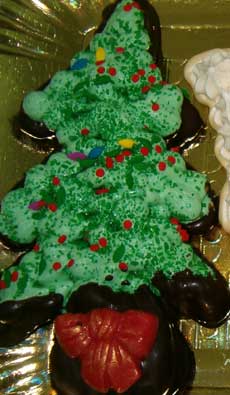 These simple Christmas tree cookies are classic Italian biscuits known as Ciambelle, basically they are small round biscuits with a jam or cream filling and another biscuit placed on top usually with a hole in the middle.
I like to make these Christmas tree cookies using the same format. As far as filling goes, choose your favorite  and spread that.
Italian Biscuit Recipe Known As Ciambelle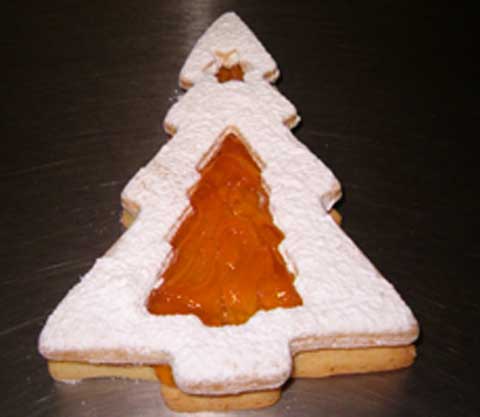 Apricot jam is certainly the filling that is widely used but I like to use anything that tastes divinely: Nutella, Lemon cream, hazel nut cream, orange cream, jam of all flavors basically if it is spreadable, try it!
Italian almond cookie is great for making Christmas tree cookies
Italian Almond Cookies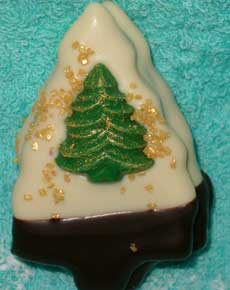 These are definitely one of my favorite Christmas cookies, they are only bite size, and are filled with all sorts of heavenly soft centers from caramels to creams, from jellies to jam, definitely Mmmmm!!!!
My Favorite Christmas Cookies
Bite Size Delights That Can Be Made With Any Flavour You Like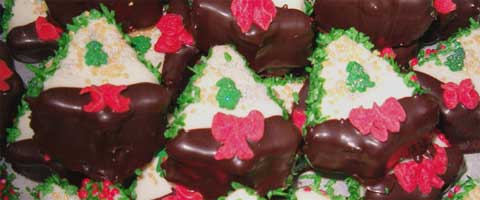 These bite size cookies are O so tasty, made with a real simple walnut cookie recipe. (walnut recipe coming soon!)
Bite Size Walnut Cookies Covered in Chocolate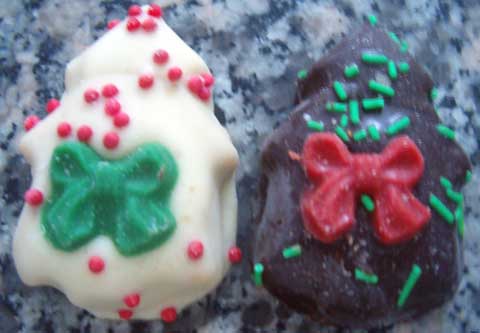 Decorating your Christmas cookies
Chocolate is my favorite but you can use icing if you prefer.
These days  you can find candy melts in all different colors that bring to life your creations. You can use the colored candy melts to cover your Christmas tree cookies, or to pipe on details or even to make your own cookie decorations with candy molds.
When using chocolate remember that chocolate dries out quite quickly,  so have at the ready all the decorations you wish to stick on.
Always start with the large decorations first, then edible confetti,  sugar sprinkles. 
There are lots of cookie decorations available that will help you create real special Christmas cookies like these below.
Edible confetti like these tiny white snowflakes and holly and berry sprinkles look just great on tree cookies.
I like to use sugar crystals as it just seems to finish the cookie off and finally the magical touch... the glitter! That makes it 'O' So Merry!
Merry Christmas to all and Happy Holiday Baking!
Hope you have enjoyed this page, please pay it forward and share it with family and friends you know that love baking in the holiday season.
---
Other pages that may interest you are:
Christmas Cut Out Cookies - Looking for new ideas and shapes for next year's holiday season , I know I always am, see if you have already used these shapes.
Fun Christmas cookies – Christmas is a jolly season and you get some great satisfaction by dressing up every day cookies, a bit of color and a sprinkle of glitter makes all the difference.
Christmas Wreath Cookies - Although Red Gold and Green wreaths are a Christmas tradition these days they come in all different colors and using some very original materials, this can also be applied to cookies.
Christmas meringue cookies  - The great thing about meringue is that it can be made up in advance and be used to made 3D Xmas creations.
Snowman Cookies - The fun part of Christmas is all about the preparation and kids just love getting their hands on biscuit dough and making Frosty treats.
Easy Christmas Cookies – A simple cookie recipe that makes really tasty treats, perfect for dunking in hot milk or just munching on as they are.  
Best Christmas cookies - Everyone has their own favorite cookies recipes for the holidays, so invite you to share yours and if you have a few photos please do send the so that I can share them with everyone.