Italian Almond Cookies
Best Italian Cookies Recipes That Make Magical Christmas Cookies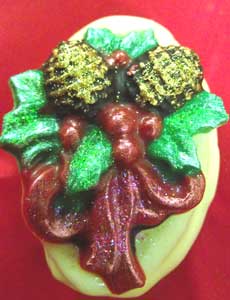 I adore Italian almond cookies and love it when Christmas is coming round so that I can make them. 
Now I know that cookies can be made all year round but if we did that there wouldn't be anything special for us to devour in the holiday season.
So what do we need to make these Italian cookies or as I like to call them Almond surprises as you will see why in a moment.
First we are going to make the biscotti bases.
My Italian biscuit recipe is just perfect to use to make these cookies. You will find a easy step by step explanation.
Second we need some almond paste. You can of course buy
Almond Paste
readymade almond paste , but if you would like to go all the way and make some real authentic
Italian cakes and cookies
you can try my
almond paste recipe.
Making up the biscotti dough and almond paste in the quantities stated on the recipes pages will make you about 20 depending on the size of the cookies you make.
If you are buying readymade almond paste you will need about 500g
Once you have these two mixtures ready we are ready to proceed.
Preparing the Biscotti Bases
Using the biscotti dough roll out on a floured surface to about 0.5 cm
Place on a baking tray and pop in a pre- heated oven at 180°C for about 8-10 minutes
As soon as the bottoms of the cookies a golden brown they are ready (even if the tops are white)
Place to one side for the moment and leave to cool down.
Preparing the Almond tops
Take the almond paste and roll out to about 0.5 cm (use icin sugar to dust the surface you are using)
Using the same cookie cutter you used to make the bases, cut out the same amount of cookies.
Side Note: Don't worry if you have some almond paste left over. Wrap it up well and place in the fridge it will keep well for about 2 weeks. If you would like to use it up straight you can always try these tasty almond balls.
We are now ready to assemble the Italian almond cookies.
First you will need to spread the bases of the cookies with a filling of your choice.
As you can see in the photo below you can use any kind of filling.
Various Fillings For You Italian Cookies
I have used in order of the photo:
Top row: Lemon Cream, Cherry Jam, Orange Cream, Coffee chocolate, Blueberry Jam, Apricot Jam
Bottom Row: Raspberry Jam, Nutella, Hazelnut Cream, Fruits of the Forest Jam, Fig Jam,  Pistachio Chocolate
Careful not to put the filling right up to the edges of the cookies as when you place the almond cookie on top it will spread out the filling further.
Now that you have all the cookies filled and with the almond paste. It is advisable to leave them over night before covering them in chocolate.
This is not absolutely necessary but by leaving them overnight it helps the filling and the almond paste to harden up making it easier to dip in the chocolate.
When dipping the Italian almond cookies into chocolate, try holding the cookie by the base and on the sides, this just helps to keep the cookies flat as the filling and the almond paste are quite soft.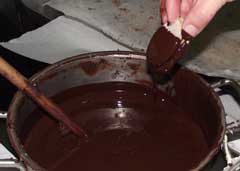 Leave the chocolate to harden and then dip into the chocolate again ensuring you have covered the cookie perfectly.
You can of course use dark or white chocolates or even colored candy coatings, they come in every color and are really easy to use.
The chocolate is not only used cause it tastes so yummy , but it also acts as a seal,  preserving the cookie for longer and keep the almond paste moist.
As you can see form the photos I have decorated these cookies using Christmas candy molds. If you like this idea you can find a large selection of Christmas chocolate molds at Amazon.Com.
You can of course simply sprinkle Edible Confetti or Colored Sugar Sprinkles or whatever else  you have or like.
There you have your Italian Almond cookies ready to serve for the delight of family,  friends and yourself of course!
Merry Christmas to all and Happy Holiday Baking!
---
Other pages related to Christmas Italian Almond Cookies that may interest you are:
Fun Christmas Cookies – Dress up your favorite cookies for the festive season.
Wreath Cookies - A simple circle with a hole in the middle is an ideal base to make striking and creative cookies.
Tree Cookies -  A Christmas Tree, is a Christmas Tree! But they come in all sorts of shapes and sizes and why not even colors!
Cut Out Cookies - Here you can let your fantasy run away with you.
Meringue cookies  - Ideas on to use my meringue recipe at Christmas time.
Prefer more the  Plain Jane type cookies? Try these simple and easy Christmas cookies, even if it's not Christmas they make perfect munching.
Frosty the Snowman cookies… We can't forget these favorites especially when there's kids around fun to make, cute to see and best of all yummy to eat.
Best Christmas cookies - is dedicated to you and your wonderful Christmas cookie creations, so if you would like to share your recipes and photos, what are you waiting for!!
---