Walnut Cookies
Papassinos A Traditional Sardinian
Walnut Cookie Recipe
Papassinos are typical Sardinian walnut cookies.  These Traditional Italian cookies are made in most areas of Sardinian for the celebration of All Saints Day on the 1st  November.
Walnuts and raisins are both harvested around the end of September in Sardinia, so having these fresh products in abundance in November resulted in the natural creation of cookies using these ingredients for a highly celebrated day.
Papassinos are made in nearly almost all communities in Sardinia with many variations around the Island.
The cookie recipe I will be showing here comes from a town called Macomer, in the Central North of Sardinia.
Walnut Cookie Recipe - Papassinos
The recipe is simple and doesn't require a mixer, in fact it is better if they are mixed up by hand just like they have always be made here.
I use a mixer for the simple reason that at times I need to mix up 10lbs of flour and by hand it is hard work.
If you use a mixer, just be sure to mix on a slow speed and only enough for all the ingredients to combine together to form a  cookie dough.
Ingredients
400gr All Purpose Flour
200gr Granulated Sugar
2 Whole Eggs
160gr Lard
50gr Of Milk
50gr Ground Toasted Aniseed
5gr Bicarbonate Of Soda
-----------------------------
200gr Toasted Crushed Walnuts
160gr Raisins or Sultanas
-----------------------------
1 Egg Yolks (Extra for Glazing the Cookies, not to be added to the ingredients)
Method
Place all the ingredients except for the walnuts and raisins in a bowl or mixer.
Begin to work the ingredients with the tips of your fingers, slow speed in a mixer
Once the cookie dough begins to bind together add the walnuts and raisins
Work the dough gently until ingredients are well combined
Just remember not to overdo the kneading.
Once the cookie dough is ready
Lightly flour the working surface
Place the dough in the center and with your hands press the dough down to about 3-4 cm while at the same time forming a square or rectangle.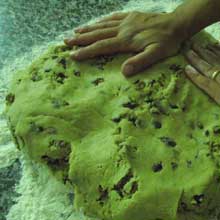 With a rolling pin finish off rolling the cookie dough out to about 2cm in thickness (if slightly more that will be fine, but try not to go under 2cm as these walnut cookies are better if they are thick)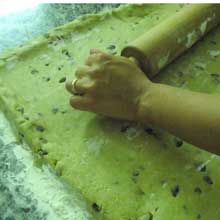 Place on top of the rolled out cookie dough the egg yolk
( the photo has three eggs as the mixture I made up was triple the amount indicated above)
cover the dough completely, either using a baking brush or like I do with my hand.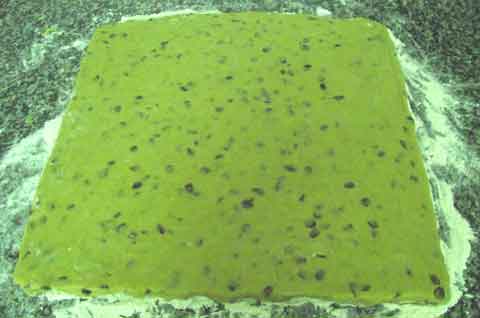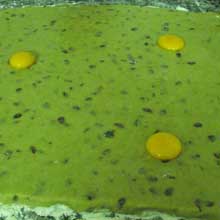 Slice the rectangular cookie dough into strips of a good 3 cm
Take each strip and cut it into diamonds like in the photo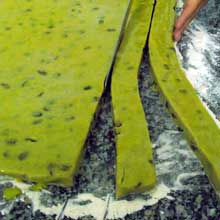 Press a half walnut on top of each cookie
Place on a baking tray lined with greaseproof paper and place in a pre-heated oven 170 °C for about 20 minutes or until they begin to color nicely.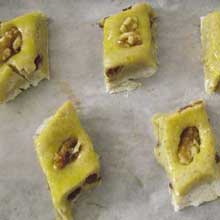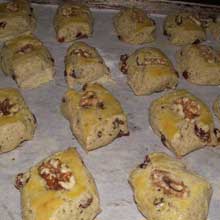 Half baked cookies
Once baked they are ready serve.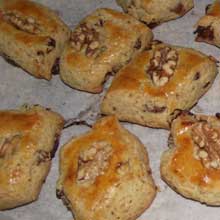 ---
Trying is believe.. simple, quick and very tasty cookies that has Sardinia with every bite!
Fancy tyring more Italian cookie recipes, then you just might want to try some more easy cookie recipes from the Mediterranean Island of Sardinia.
Sharing our authentic Italian recipes is a way of spreading our traditions and culture around the world. If you can't come here to savor a genuine taste of our Island, then the next best thing is to fill your home with the authentic aroma's of Sardinia.
---
---