How To Blanch Almonds
How to blanch almonds? Why on earth would you want to know how to blanch an almond...?
Simple! In all my Italian cookie recipes the best way to prepare the cookies is using blanched almonds.
Depending on how many almonds you need it is a quick and simple task.
Now I'm not sure if this brings back memories of the good old days or nightmares!
For the first six months of opening up my cake shop I would religiously blanch 15-20 kilos of almonds every week (I am cringing while I am writing this!).
All I will say on the subject of how to blanch almonds is... Thank heavens for technology! Today I have a machine that does this job for me.
The only reason is took it out was because: when it comes to my Italian cookies it makes the difference. How can I put it? Chalk and Cheese... Well near enough!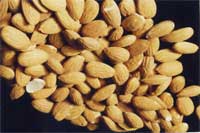 What kind of almonds to you need to buy?
Whole unblanched almonds, they look like
those in the photo on the left.

All you need to blanch almonds is:
Pan
Water
Stove
Almonds
A good finger and thumb flick technique!
How to Blanch Almonds
Step 1
Depending on how many almonds you are blanching choose the right size pan
Step 2
There should be sufficient amount of water, so that when you place the almonds in the pan they are well covered. It is better to have more water than necessary than not enough.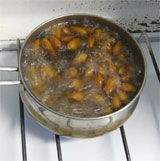 Step 3
Place the pan on the heater and bring to boil. Once the water is boiling add the almonds
tep 4
Leave to boil for one minute
Step 6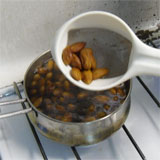 With a sieve pull out an almond to test, rinse under cold water, if it pops out with ease, they are ready. If not, leave slightly longer.
Step 7
Once they are ready, pour the almonds in to a sieve and rinse under cold water.
N.B Never leave the almonds sitting in the hot water: it will stain the almonds
Step 8
Party time! Finger and thumb ready! Push them skins away!
Careful not too fast, otherwise you'll be forever picking almonds up off the floor.
That's all there is to how to blanch almonds...Simple yeah!
Once you have finished, rinse them under the cold water again.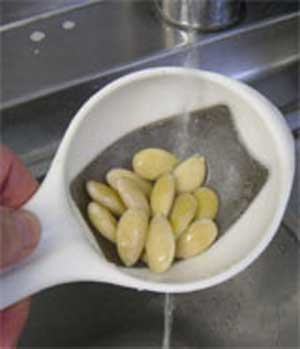 All you need to do now is dry them off.
The best way to do that is to spread the almonds evenly on a clean tea towel.
The tea towel is important as it will absorb all the humidity, otherwise they may become sticky.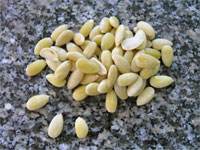 Last piece of advice... is to blanch your almonds the day before you need to use them.
OK! All you need now is great Italian cookie recipes.
How about having a go at making Sardinian style amaretti cookies! Here area a few tips for making perfect amaretti.
You've gone to the trouble of blanching your own almonds, make something real special and impress your friends.
Happy Baking!