Basic Sponge Cake
A Fatless Sponge Cake
Pan Di Spagna
A super easy basic sponge cake recipe for you create lots of goodies and treats all Italian style!
This cake recipe here in Italy is known as Pan Di Spagna , translated means Spanish Loaf.
Basic Sponge Cake
Why on earth one of the most widely used recipes for making cakes has this name I do not know, if I ever get to find out I will pass the message on.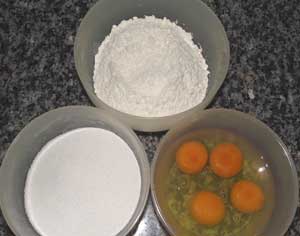 As the title has already mentioned this sponge cake is fatless. All you will need is;
Eggs come in different sizes and for this recipe to work properly all the ingredients have to be the same weight.
So the easiest thing to do is decided what size sponge cake you want to make.
These are rough guidelines
4 whole eggs, 8 – 10 Servings,  Baking Pan 25cm Round
6 whole eggs , 12 – 14 Servings , Baking Pan 29cm Round
Take the number of eggs, crack them open in a bowl and weigh them.
Whatever  the weight of the eggs is, you will need the same amount of sugar and flour.
Preparation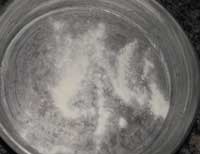 1.  Pre heat oven at 170°C
2.  Butter the baking and dust with flour
Weigh The Eggs First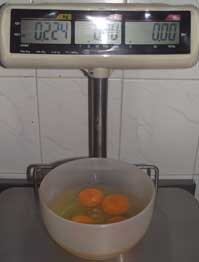 Ingredients
I used 4 eggs for a 25cm baking pan
My 4 eggs weighed exactly 224gr
So I weighed out
224gr of Granulated sugar and
224gr All Purpose Flour
Method
1. Place the eggs and sugar into a bowl and whisk until very light and fluffy.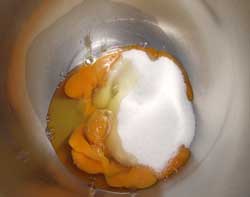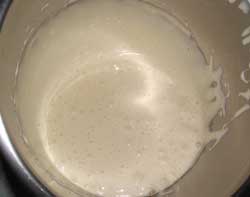 2. Sieve the flour and fold in gradually with a metal spoon
3. Pour the mixture into a well buttered or lined with greaseproof paper baking pan.
Spread out the mixture evenly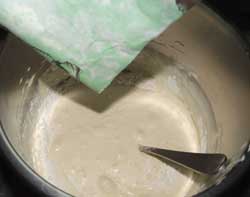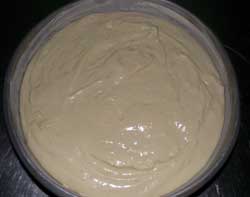 4. Pop into a pre heated oven of 170°C
Leave for about 40 minutes until golden brown in color and firm to touch.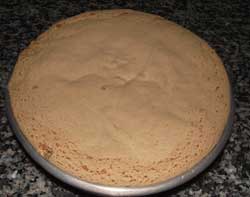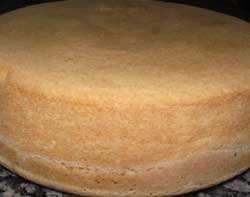 Leave to cool
You can enjoy this sponge cake as it is. If you would like it to keep for a few days then do wrap it up well. As the cake does not contain any fat it does tend to dry up quicker.
This sponge cake is ideal for making a classic Italian cream cake these Italian cream pastries.
It can also be used to make trifles, like this famous Italian trifle, with pastry cream.
---