Italian Wedding Cookies
Pastissus Traditional Sardinian Cookies
Italian wedding cookies that will make  perfect elegant wedding centerpieces for your wedding celebrations.
These dainty decorated Italian cookies are not only absolutely gorgeous to look at… they are a divinity to eat as well!
I love to see cookie recipes with pictures, so if you do too...them you are in for a treat!
One great thing about these elegant Italian wedding cakes,  is that you can make them up to ten days before your wedding day.
No freezer, No fridge, just wrap them up well and they will be fine.
These wedding cookies are known as Pastissus pronounced (PAST TEA SUE SUES).
These Italian wedding cookies are made up for all special occasions and 90% of the time they are always homemade.
Finding a cake shop that makes them and really goes to town on the decorations is not easy as they are time consuming .
Unique wedding ideas on how to use these Italian cakes are bomboniera (wedding favors),  I made them once for my sister-in-laws wedding.
I pain saintly hand painted their names and the date of their wedding on each one, decorated them up to the nines and they were a huge success!
What are these Italian wedding cookies made of…. A delicate sponge made with almond flour encased in a super thin pastry, iced over the top and decorated.
Obviously the finer the decorations the more delicate they are.
Wedding Cookie Recipe
Note this recipe makes about 60 cookies
Utensils
Electric whisk
Bowl
Rolling  pin
Metal pastry cases
Baking tray
These pastry cases are just perfect for these cookies.
If you need to buy these cases, there is a set of 36 just remember to half the amounts in the recipe so that you can prepared them all in one go.
For more ideas and selection of ideal tart pans click here.
Ingredients
Italian Pastry Dough
350gr Flour
50gr Lard
3 Whole Eggs
Filling
350gr Almond flour
4 Whole eggs
350gr Sugar
150 gr Flour  (Self Raising or Plain flour with a teaspoon of baking powder)
75gr Butter (melted)
1 Lemon rind
1 Tblsp Liquor Sambuca/Millefiori/Strega/Maraschino
Method
Prepare The Italian Pastry Dough
---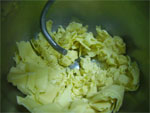 1. Place the flour, eggs and lard in to a bowl or an electric mixer until a well combined dough is achieved.
(N.B.! If the dough seems dry add a few drops of water.)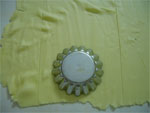 2. Roll out the dough as thinly as possible
Place a metal pastry case upside down on the rolled out dough and cut into strips a good 1cm wider than the pastry cases.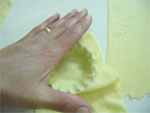 3. Take the strips and carefully press into the metal pastry cases.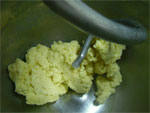 4. With the help of the palm of your hand  gentle press the edges of the pastry cases.
You will find that it will break away with ease.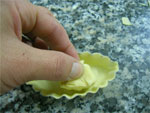 5. To help you press the rolled out dough well into the cases use a ball of pastry.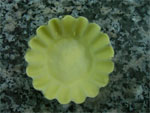 6. The dough needs to adhere perfectly to the metal cases in order not to form air bubbles when baking.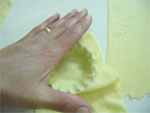 7. N.B. You will note that when you collect all the cuttings of pastry, it will be dry.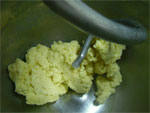 8. Add a few drops of water to until you achieve a ball of dough again.
Repeat the process until you have filled all the pastry cases you need.
---
Preparation of filling
---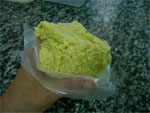 1. Give it a quick whisk until all ingredients are well combined.
N.B. Pay attention to the bottom of the bowl, give it a good scraping and mix
Place the mixture in to a piping bag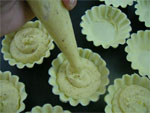 2. Pipe the mixture in to the prepared pastry cases.They need to be filled a good half way.
It is better to have too much filling than not enough  in the cases as we want to achieve a nice flat surface.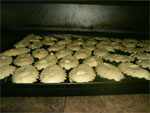 3. Place in to a preheated oven 170°C
Bake for 20-25 minutes until golden brown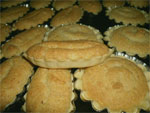 4. Leave to cool and remove from the metal cases.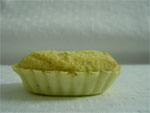 5. You can see from the pictures that the wedding cookies tend to rise and form a dome shape.
If you are not fussed about the appearance of these cookies you can leave then as they are.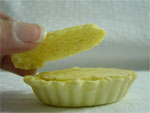 6. If you are instead looking to make your perfect Italian wedding cookies, you need to carefully cut off the tops to obtain a nice flat surface.
---
Now for the fun bit, decorating
your exclusive Italian wedding cookies…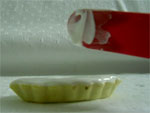 1. You need to make up a basic royal icing, with egg white and icing sugar.
Then add a few drops of water at a time to make it slightly runnier in order to obtain a smooth surface.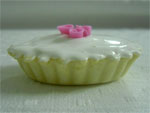 2. Ice the tops of the wedding cookies., use a small spatula to help you.
Whatever you decide to use to decorate your wedding cookies with now is the time to stick them on.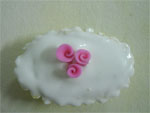 3. Leave the icing to dry.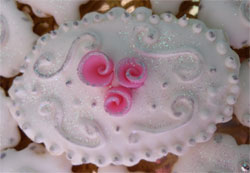 4. Once the iced surface if dry, run away with your fantasy,  pipe and paint your Italian wedding cookies and for a great final touch, a sprinkle of white glitter.
---
If you decide to make these Italian wedding cakes, please remember one thing; the reason these Italian cakes keep so well is because of the icing. Make sure you cover all the filling well leaving no gaps. This seals the filling, so that no air gets to it maintaining the filling moist.
Find out some unique Italian wedding ideas on how to decorate these Italian cookies.
Whether you need some help with this wedding cookie recipe or whether you would like to show off your wedding cookie photo's, please pop over to Italian Wedding Cookies comments.
Find lots more Italian recipes below :