Flights From Manchester
To Cagliari Sardinia
Flights from Manchester To Cagliari – What is available.
At present there doesn't seem to be any direct flights from Manchester to the capital of Sardinia.
The only options at the moment are flights with one or more stops.
The best option with a one stop connection I found was with Ryanair.
Manchester T3 to Brussels (Charleroi) to Cagliari
This flight is available on Mondays and Fridays.
Note that you will have a rough three hour wait between the Brussels and Cagliari flight and a rough seven wait on your return journey from Brussels to Manchester.
Bear in mind that this is not the only route available of getting to Cagliari from Manchester.
The one I have suggested is the one that seems to have the less waiting time between connections.
Use the flight search to see what is available for Manchester flights in real time,
You will find quite a few combinations of one stop flights from Manchester to Sardegna using either the same airline company for both journeys but in some cases two different companies.
Flying from Manchester to Brussels S. Charleroi (CRL) with Ryanair and the return route using Easyjet through the Milan Malpensa Italy Airport (MXP).
Do remember to check luggage regulations for both companies as some have a limit of 20kg haul luggage and others 15kg.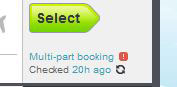 Using the flight search above will bring back all available routes from Manchester just be aware that there are two types of flight bookings that can be made.
Guaranteed connection bookings (This basically means that you are protected in case of delays between flights)
Multi- part Bookings - No guarantee bookings ( means you book each flight separately and you are Not protected in case of any flight delays between connection
A few years back Ryanair did have a direct flights from Manchester to Cagliari hopefully they will bring them back again.
Check Out More Manchester Destinations
More Flights to Sardegna Information