Your Sardinia Questions
Share your Questions about Sardinia so that I may help you and all other visitors to my website.
As I am sure you can well appreciate, time is so limited.
Answering emails on a personal basis especially when the questions are all on the same or very similar subject takes some doing.
Your questions here will be published
as well as my answers.
I will do my best  to help you... within my limits naturally!
Your questions and my answers will help others that may have the same queries,
And of course this will help me on the time issue..
Come on... I have to think about myself too!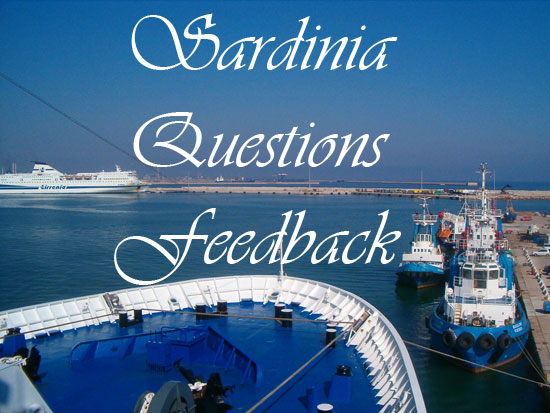 The more details the better!
Whatever your question is about , do try and give as much detail as possible.
Vague questions will only result in vague answers, not much help to either of us.
Please! Please! Please!
When you fill out the contribution form do remember to set your notifications and fill in your email address.
Without your email address I will not be able to notify you about my reply.
Note your email address is completely safe with me, also
It will not be added to any kind of List
If you wish to be added to mail email list and receive my newsletter that is your choice and you can do it here.
Looking forward to hearing from you
Do you have a question regarding Sardinia?
Share it!
Other ways of Contacting me or contributing to the site: