Town Houses For Rent 
in the Mountain Villages of Ogliastra
Town houses for rent by owner are becoming a more popular alternative to holiday accommodation.
Island village life is on the whole peaceful and tranquil.
During the day the locals are busy with their everyday life and on the hot summer evenings out for a walk with family and friends in search of the cool spots.
That is unless your holidays here coincide with a traditional summer town festival. 
Music pumping from the piazza and scooters roaring under your bedroom window are indeed to be expected.
Wine Tasting Weekends
Jerzu...Calici di Stelle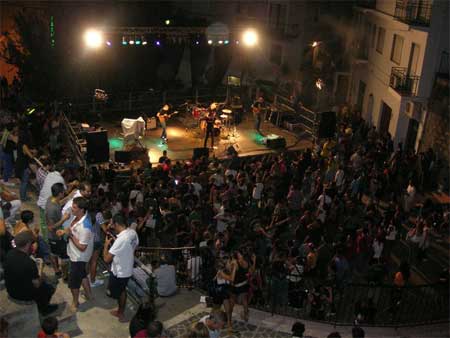 You can of course close the windows and sweat it out (if there is no aircon!) Or just follow  the old saying 'if you can't beat em… join em!'
Put your party shoes on… and mingle with the locals!
Ogliastra is a small Italian Province, so no matter which village you choose, the max distance in time to the nearest Mediterranean beaches is 20 minutes.
Advantages of Town houses for rent by owner…
Cooler climate
The blazing sun and the heat are certainly perfect weather conditions while lazing on the sandy east cost beaches.
But when it comes to bedtime the mountain villages offer a cooler climate. (Unless we have a heat wave that is!)
Peace and Tranquility
The locals do not live a hectic night life especially during the week not that the weekends are much different.
After supper (and that means after 10 O'clock)the villages tend to become like ghost towns. There is always at least one bar open but with few people about you can look at it like this… more chances of finding a free table!
The only time you really get to see more people out after 10 is either when there is a town festival or when the evenings are exceptionally warm.
Sardinian Life
Being in a Sardinian Village brings you closer to the real Sardinian way of life. You can get taste of what I believe to be quite a laid back lifestyle.
No one seems to be in a rush (unless there're in a queue at the post office!) there always seem to have plenty of time for everything, and afraid this is contagious…
Shopping
All villages have their local corner shops where you'll be able to brush up on your Italian when the fridge needs filling!
The smaller villages may have a lesser variety of shops, but not to worry you can always take adventure trip to a nearby town and see what they have to offer.
Prices
Houses for rent by owner can in fact be a great way to find cheap holiday accommodation. Prices do differ from house to house depending on the commodities available.
Although we all know that we get what we pay for… the important thing is to know exactly what!
Not to worry though I will be telling it as it really is…and then the choice is obviously yours!
There actually 23 towns in the Province of Ogliastra…
Rome wasn't built in a day and I am certainly not Harry Potter...
So, as time permits I will be working my through them all to find and share with you all the best town houses for rent by owner deals, until then here are a fwe great options for rentals on the Island.
---