Top Ten Myths About
Sardinia Travel
Here are the top ten myths about Sardinia travel.
So many things get said on the grapevine and by the time it gets to our ears, what is actually the truth and what is false can be totally different realities.
Well here are my top ten myths , some of the most frequently asked mis-concepts about vacations here in Sardinia.
Maybe you have heard of something and would like it to be clarified, well just ask away!
Fill in the submission form and I'll be back to you in no time!
Do you have a question regarding Sardinia?
Share it!
1. Sardinia is only for the rich and famous.
I placed this one on the top of my list because it seems to be the most misconception of Sardinia. The Island does attract quite of few of the famous VIPs around the world. They all clan together in the Emerald coast and that seems to be the top headlines in the world news about Sardinia. "who's visiting the Island", everything else takes a second place.  Sardinia is for everyone with all budgets.
2. Emerald Coast has the best beaches on the Island
In my opinion the Emerald coast has become famous for the simple reason of who visits it not because it is where the most beautiful beaches are on the island.
You if were to ask any Sardinian a honest opinion about which are the most beautiful beaches and coastline of the island nine times out of ten the answer would be the east coast beaches of Ogliastra.
3. The Emerald Coast is only for people with no limit credit cards
Although one of the most expensive hotels in the world is found in the Emerald coast Porto Cervo Hotel Cala de Volpe with a whopping price of $32,000.00 a night, it is also possible to find hotels in Porto Cervo with prices lower than $39.00 a night, big difference!.
Of course for prices like these you will be looking a visiting the island out of season April May but the advantages of that are less crowds, personally I can't think of anything worse than an over crowed beach.
4. Sardinia is ideal only for beach holidays
The island certainly ideal for beach holidays, you are just spoilt for choice! But there is a rich list of other ideal types of vacations here too...
Farm holidays enjoying the tranquillity of the countryside
Hiking the uncontaminated paths and trails
Trekking through wildest and challenging landscapes
Cycling and mountain biking holidays may be accompanied with the discovery of the finest wines
Cooking vacations learning make some of our traditional foods
Rock Climbing the crags of the island
Golf lover?  Yes there are accommodations with golf courses too!
Wellness and Spa centres for a well deserved regeneration with splendid environments
 Much more than just beaches...
5. Sardinia is not idyllic for winter vacations:
I wonder just how people realise that it is actually possible to come to Sardinia for a skiing vacation...
Gennargentu which means Silver Door is the mountain chain that expands over the central and north east coast.
Bruncu Spina with its 1.829 metres is the highest peak on the island. Is the perfect location for a skiing holiday in Italy Sardinia.
6. It is expensive to eat out in Sardinia.
Of course it depends where you go, once and only once in my life I went to eat in the hotel Baia Sardinia, pretty much a famous hotel in the Emerald Coast and had a meal. Yes it was lovely but I nearly died when we got the bill.
After saying that last August we went to the Emerald coast in the end of August and I can across this billboard outside a lovely hotel in the bay of Cannigione and was really surprised at what they were offering that I took a photo of it. And this is the Emerald Coast in August!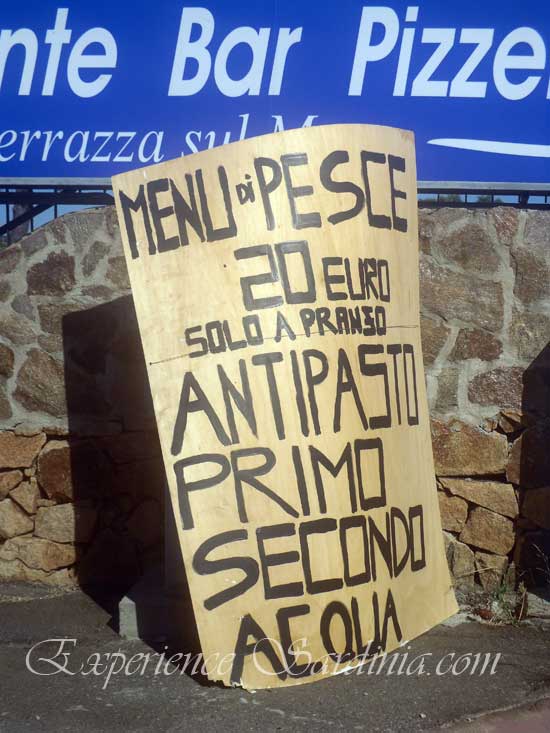 One of things we love to do in summer is go down to the beach in the evenings for pizza. Last year we exactly that, had a lovely meal with pizza drinks and a sweet and paid €12.00 a head, which in my opinion is a pretty decent price for what we had.
Many places also advertise with billboards tourist menu's that can go from €15.00 to €20.00 a head, just watch out for them.
7. Travelling around Sardinia is impossible without a car.
It is not at all impossible, but does need to be planned in advanced... public transport is available between all the towns on the island and with connections to the larger cities.
They also offer a tourist ticket that begins on the 1st of June through to September 30th  and the prices a fairly cheap..
What I do appreciate is the fact the bus company's website is not available in English and can be a bit daunting to understand. I have had trouble understanding their codes myself and had to ring up asking for explanations.
This is one of things I will covering in the near future.
8. Sardinia is a mainly mountainous region:
It has been said that Sardinia is a continent all on its own for the diversity of its landscapes.
Mountains, rolling hillsides, plains, flat lands and the desert of Le Piscnias on the Costa Verde.
The area has all the look of a Sahara desert with its dunes that are the highest in all of Europe.  
9. Sardinia is a mass tourist destination
Really? Well I loved to know where they are all going... It is true that there is more awareness about the island as a tourism meta but to go as far as saying mass... in my opinion is an over statement.
Last summer I was out and about visiting what you could call the more touristy places in Ogliastra and in all honestly I couldn't say that they had been invaded by tourists.  
Apart from Sundays when the locals are out for their Sunday ride or day at the beach this area still has the charm of being  an ideal location for escaping the crowds.
10. Quality of Tourist Services in Sardinia is Slack:
Coastal areas tend to have more services and facilities but you wonder in to the inlands:
If you travel around in the mountain villages you'll find that all the shops are shut in the afternoon.
Don't even think about trying to find some fresh bread on a Sunday impossible.
Finding decent roads signs here can be a joke
Not many English speaking people
Need a Pharmacy on Sundays and you may have to do some travelling to find the one on the rota, and even then they only open up in the Mornings
Travelling with public transport , finding the actually bus stop can be task as many stops don't even have a sign.
While this may come across as being slack, in reality it's the genuine side of the Island.
While there are many services and organised tours with real people that want you to enjoy our land, Sardinia is still very much untouched by tourists in the masses in many Provinces of the Island like Ogliastra and basically there is no real need to provide services for tourist if there aren't any.
More reading about Sardinia travel