Alghero  Fertilia Airport (AHO)
Alghero Sardinia airport also known as Fertilia (AHO) is situated on the North West coast of Sardinia just about 10km away from the city center of Alghero.
Ideal for destinations in the North of the Island, although many do prefer to fly into Alghero even if they are travelling down to South end of Ogliastra on the east coast.
Flights To Alghero
Image courtesy of itchyfeetblog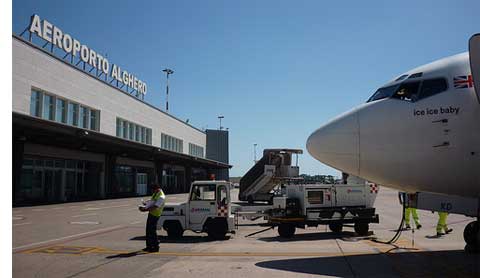 The main reason being the low cost airlines companies that fly into this airport have pretty good competitive cheap flight prices that an hour extra of travelling to get to their destinations still works out to be a better deal.
To find out what companies are flying to Alghero just type in the from box your location, in the box will appear the list of companies flying in and out of Alghero.
Alghero Sardinia Airport
The Alghero airport is pretty small but provides all the basics.
Shops that include a typical food store, book stores a couple of bars a par pharmacy.
Services included are a play area for children, a cash dispenser, a ticket office and safe baggage plastification.
Also in the airport you'll have a choice of 10 car hire companies:
For more inofrmation about car rental in Sardinia click here:
| | |
| --- | --- |
| Hertz | Europcar |
| Avis | Maggiore |
| Ruvioli Rent a Car | Sardinya Autonoleggio |
| VitenGroup | Sicily by Car |
| AM Service | Sixt. |
There is a daily bus service to Alghero City Center and Sassari, see the Sardinia Guide to public transport for more info.

Taxis are also available outside the arrival terminal. 
Real time departures and arrivals are updated every 10 minutes-

Can't say that I really love flying from this airport as it takes me about 3 hours to arrive at my destination Ogliastra.
But I have done it on many occasions basically for the cheap flight tickets.
If you do decide that this is the airport for you and you are travelling down to Ogliastra just make sure you have a good map with you especially if you're travelling at night time.
When you arrive at the junctions at Nuoro it can be a bit confusing just like it was for a couple of friends of mine and it ended up taking them 5 hours.
Just a warning don't be put off they got here in the end!!
---
More Sardinia Travel Information :