Cheap Porto Torres
Ferry Tickets
Finding cheap Porto Torres ferry tickets or ferry tickets in general to Sardegna seems to be a bit of chore just lately.
.
The table below shows was is available at present.
Departure Port

Arrival Port

Ferry Company

Duration

Outward

Return

Ajaccio (Corisca)

Porto  Torres

SNCM

4h

4h

Barcelona
(Spain)

Porto  Torres

Grimaldi

14h 30m

11h  45m

Civitavecchia
(Italy)

Porto  Torres

Grimaldi

9h 30m

7 h 15m

Genoa
(Italy)

Porto  Torres

Tirrenia, GNV

11h 30m

11h 30m

Marsiglia
(France)

Porto  Torres

La Meridionale, SNCM

17h 30m

15h 30m
For more precise details use the ferry booking engine below.
Book Cheap Ferries
Like I already said cheap seems to be a big word these days as far as ferry tickets to Sardegna goes. Prices have gone up quite a bit in the past couple of years and this year doesn't seem to be any better.
If you are looking to travel cheap there are a few things that will bring the cost of the ferry crossing down.
No accommodations - I appreciate the fact some of the crossings are quite long but cheap doesn't always mean comfortable, just arm yourself with a sleeping bag or do as I did, an inflatable sun bed and find yourself quite stop on the ferry for the night
Cabins – Seen as though I have tired both,  having a cabin with a private bathroom is certainly more comfortable especially when travelling with young children. If you're looking to book a cabin then note that the internal cabins are slightly cheaper.
Booking in advance – last minute deals for cheap ferry tickets practically don't exist. The nearer the departure date and the fewer the tickets are left the more the prices go up.
Ferry Companies  - When you are presented with more than one ferry company that is offering the same route, then check them both as I have noted that prices can differ.
Return Ferry Tickets – Where it is possible try and book a return ferry ticket with the same company as this can also make an enormous difference in the final price.
Genova - Terminal Ferries
Cheap Porto Torres Ferry Tickets
Cebete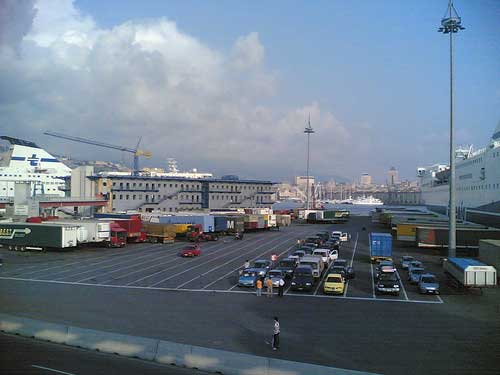 If you would like to contact Ok Ferry about bookings, modifications or cancellations please use the contact form.
More Ferries to Sardegna