Ferry to Olbia
A ferry to Olbia is available from the following ports in Italy.
| | | |
| --- | --- | --- |
| Italy Port | Duration of Journey | Company |
| Genova | 12 hours | Moby , Tirennia, GNV |
| Livorno | 9h 30m | Moby Lines |
| Civitavecchia | 7h 30m | Moby , Tirennia |
| Piombino | 5 hours | Moby Lines |
If you would like to contact Ok Ferry about bookings, modifications or cancellations please use the contact form.
Tips and Things to take in to consideration before booking Olbia ferries.
The actually parameters I Used to bring you these observations were
1 Internal 4 berth Cabin
2 Adults
2 Children between the ages of 4 and 11
1 Car between 4 and 5 meters long
Dates 1 June to 22 June
Genova - Olbia
Is the closest port in Italy to its neighbouring European countries
.
As you can see from the table above that there are three navigation companies that offer this route.
Depending on the days you which to sail, sometimes you are given a choice of more than one company that sails on the same day.
While looking for tickets for myself, I did check out all possible combinations of outward and return journeys with the different companies available while keeping all the booking parameters the same.
I found out that:
you can save money by choosing an internal cabin as opposed to an external cabin
that a return ferry ticket with Moby lines was what gave me that best deal

I appreciate the fact that it can be a bit of a bother having to keep going back and forth to check all the options but by doing this I managed to save a whooping 232.00 Euro's!
Port of Olbia
gaspartorriero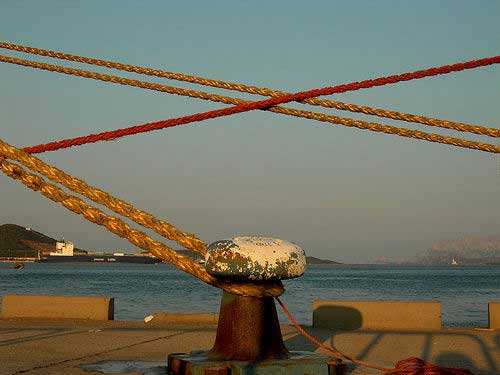 Livorno (Leghorn) - Olbia
You have a choice of day time and night ferries to Olbia from Livorno and be aware that ferry tickets are certainly much cheaper if you travel during the day.
Using the same exact parameters for my booking I found there was a 220.00 Euro difference cheaper just for travelling during the day.
Another thing to note about travelling during the day is the outward journey from Livorno to Olbia is about 6 and half hours while the return journey is 8 and a half so if you are looking to an even cheaper solution then you could always travel without a cabin.
The difference in price went down by another 90.00 Euro's. Every little bit adds up if you're on a tight budget.
Which is cheaper Genova or Livorno?
By using the same booking details and dates, I found that the ferry crossing from Livorno was actually 161.97 Euro's cheaper.
But you have to take in to consideration that from Genova to Livorno there is a 180 km's and about 2 hours driving distance.
Depending on how you are travelling you will have to weigh up the expenses to see if you will still be able to save money by travelling down to Livorno.
Piombino - Olbia
The next port in Italy is Piombino which is about 90km's further down from Livorno.
This is the shortest ferry crossing with a 5 hour journey.
The prices using this port again go down.
The difference in price I came up with (for same booking details) between
 Genova –Olbia and Piombino Olbia
Was 212.50Euro's cheaper from Piombino.
Civitavecchia - Olbia
The distance between Piombino and Civitavecchia is 190km about 2.20mins driving
Genova – Civitavecchia Distance is 420 km and about 4hr 30mins driving.
The prices for a ferry to Olbia here do go slightly down again by another 40.00Euro's.
Whether this will end up being the cheapest ferry crossing all depends how you are travelling and where from so I'm afraid I am going to have to leave that calculation up to you.
More Ferries to Sardegna