Sardinia Wine...
Sardinia Wine...The first wine that comes to my mind is the D.O.C Cannonau di Sardegna wine.
Not because it is one of the most popular and famous type of red wine, No... I think I was brain washed as a child by my dad!
You may think that is an exaggeration, I'm not quite too sure it is...
Share Your
Favorite Sardinia Wine
We love Great suggestions!
You see, my dad is a true Sardinian bursting with pride for his home land Sardinia.
The Cannonau Sardegna being his second pride and joy, you can imagine what the topic around the dinner table was all about.
His pride and love for his Sardinia Cannonau wine, made me honestly think (as a child that is) that this was the only wine produced in Sardinia.
OK, let's take a quick wine tour of the other Sardinian wines.
Sardinia is small Italian wine region that grows many varietals of grapes and produces even more types of wines. This made it difficult to draw a common line between the wines produced.
The introduction of the Italian wine classification was a perfect solution.
It was now possible to differentiate the various wine types by;
the varietal of grapes used
where the grapes are cultivated
indicate the special features of the wine
To give you an example;
The most common grape 'Cannonau' is grown throughout the whole of the Sardinian territory and many wineries use it to make a Cannonau wine...
But, there are only three districts where this varietal of grape has found its ideal habitat and has been awarded the D.O.C certificate for the production of the wines known as 'Cannonau di Sardegna'.
The three sub-denominations of Cannonau di Sardegna are;
Nepente di Oliena
Capo Ferrato
The D.O.C Cannonau di Sardegna is just one of the 19 D.O.C Sardinia wines. The other 18 Sardinian wines with the D.O.C certificate are;
1.       Alghero
2.       Arborea
3.       Campidano Terralba
4.       Carignano Sulcis
5.       Girò di Cagliari
6.       Malvasia Bosa
7.       Malvasia Cagliari
8.       Mandroliasi
9.       Monica Cagliari
10.     Monica Sardegna
11.     Moscato Cagliari
12.     Moscato Sardegna
13.     Moscato Sorso-Sennori
14.     Nasco Cagliari
15.     Nuragus Cagliari
16.     Sardegna Semidano
17.     Vermentino Sardegna
18.     Vernaccia Oristano
This does not mean that there are only 19 different bottles of Sardinia wine that have the D.O.C. Certificate.
Under the strict rules and regulations of the Italian wine classification many of the wines listed above are permitted to produce the D.O.C wine in different styles.
It's easier for me to explain with an example;
The D.O.C Cannonau Di Sardegna with the sub-denomination Jerzu is produced in nine different styles.
CHUÈRRA Cannonau di Sardegna Doc Riserva
JOSTO MIGLIORE Cannonau di Sardegna Doc Riserva
MARGHÌA Cannonau di Sardegna Doc
BANTU Cannonau di Sardegna Doc
ISARA Cannonau di Sardegna Doc Rosato
RISERVA ANTICHI PODERI Cannonau di Sardegna Doc Riserva
ROSSO 13,5% Cannonau di Sardegna Doc 
ROSSO 12,5% Cannonau di Sardegna Doc
Cannonau di Sardegna Doc Rosè
They are all Cannonau di Sardegna D.O.C Wines but each one has its own unique style.
Taking this into consideration, the list of Sardinia wine becomes some what longer than just the 19 D.O.C listed above.
An Italian wine that has been awarded the D.O.C certificate has a certain prestige, but it is not the highest qualification.
Every wines goal is to reach the D.O.C.G certificate.
Wine From Gallura Sardinia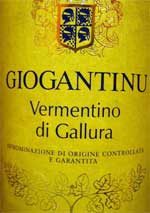 The Vermentino di Gallura is the only Sardinian wine that has been awarded this certificate.
This prestigious certificate is awarded to Italian wines that have been a D.O.C wine for at least five years. That alone is not enough; only the results of thorough examinations of every single aspect of the wine making process can determine whether a wine is worthy of this certificate.
You can easily recognise these Italian wines as they have a pink label stuck over the cork of the bottle, you can of course consider them as the best Italian wine labels.
The I.G.T certificate is the first recognition a wine obtains.
Although there are regulations for the I.G.T wine, they are more lenient than those of the D.O.C and .D.O.C.G. wines.
The area from which the grapes originate is much larger and the amount of grapes harvested for every hectare is higher.
There are 15 distinct areas of Sardinia that have been awarded the I.G.T certificate.
Well as you can see, Cannonau di Sardegna is obviously not the only Sardinia wine, there are sooooooooooooo many more!
How on earth does some choose amongst them all?
I know which one my dad would choose, how can I forget!
How about you? Have you tasted any of the wines mentioned above?
Where did you taste it?
Did you choose it or did someone suggest it to you?
May be you have already been to Sardinia and made your own discovery of a great Sardinia wine.
Please do tell... Share your Sardinia Wine Stories! Experience Sardinia visitors adore great suggestions!
---